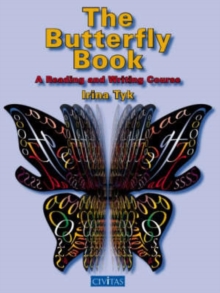 The Butterfly Book : A Reading and Writing Course
Paperback / softback
Description
Learning to read is the basis of a good education. Children who read well and read early gain an advantage that will stay with them throughout life.
But what is the best way to teach children to read? For over thirty years, reading has been a battleground on which rival theories have fought for supremacy, to the bewilderment of parents who, all too often, have had to stand by while their children were struggling.
Now, after conclusive research, the battle has been won - by synthetic phonics.
Phonics teaches children to decipher words by recognising the 44 sounds that make up the English language.
It is straightforward and easy to grasp. It is an approach that was used for hundreds of years until it was ousted by competing approaches favoured by sections of the educational establishment.
Now, however, phonics is back.As of September 2007, all state schools are obliged to teach reading by synthetic phonics.
Irina Tyk has championed phonics throughout the long 'dark age' in which other approaches held sway. "The Butterfly Book" was her attempt to codify the elements of her approach that she knew were effective in getting children to read. First written in 1993, it has been available since then in copies produced in small print-runs for a dedicated market.
Now Civitas is proud to present this new, popular edition, aimed at teachers and parents who know that phonics works, and want the means to put it into practice.
At Holland House School, of which Irina Tyk is the Head, children are expected to be reading independently after three terms.When Irina Tyk taught reading by phonics at a summer school for Bengali children in Whitechapel in 2005, the average reading age of the children (measured on the Holborn Reading Scale) increased by ten months in just two weeks of morning lessons. "The Butterfly Book" is the standard reading text book used in supplementary schools run by Civitas for disadvantaged children, as it has proved most effective in overcoming problems with reading in children of all ages and backgrounds.
By following the simple instructions contained in this book, parents and teachers can quickly learn how to give children the excellent start in life that literacy will always confer.
Information
Format: Paperback / softback
Pages: 194 pages, Illustrations
Publisher: Civitas:Institute for the Study of Civil Society
Publication Date: 28/09/2007
ISBN: 9781903386613
Free Home Delivery
on all orders
Pick up orders
from local bookshops