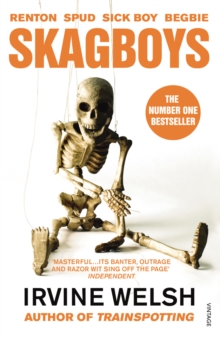 Description
BEFORE TRAINSPOTTING CAME SKAGBOYSThe Number One BestsellerMark Renton has it all: he's good-looking, young, with a pretty girlfriend and a bright future.
But there's no room for him in the 1980s and when his family starts to fracture, Mark's life swings out of control.
The way out is heroin. It's no better for his friends - Spud Murphy is laid off from his job, Tommy Lawrence finds himself sucked into a life of petty crime, violence and the world of the psychotic Franco Begbie.
Only Sick Boy seems to ride the current, scamming and hustling his way through it all.
Exhilarating and moving, Skagboys charts their journey from likely lads to young addicts in a decade which changed Britain forever.
Information
Format: Paperback
Pages: 560 pages
Publisher: Vintage Publishing
Publication Date: 01/03/2013
ISBN: 9780099535584
Other Formats
EPUB from £4.99
eAudiobook MP3 from £10.40
Free Home Delivery
on all orders
Pick up orders
from local bookshops
Reviews
Showing 1 - 1 of 1 reviews.
Review by Opinionated
27/08/2015
The "prequel" to Trainspotting, although of course it can't really be that. For a start, Mr Welsh is a better writer than he was then, although perhaps not as an exciting one, and secondly the more mature writing of the author leads to the younger versions of these characters feeling more mature than the older ones. But its grand to meet them all again. The depiction of Renton is most successful - he is the most intelligent, the one who most needs to escape his environment, something he attempts many transformations in order to do - punk, soulboy, university student and finally and definitively, junkie. Most of the other characters feel much the same, although there's a lot more of Ali in this which is to the good. Skagboys prints a grim, and in my memory, accurate picture of the early 80s and how relatively pure, white, heroin originally sourced from a local opiate manufacturer, started the heroin flood in Edinburgh, in contrast to the cheap, brown heroin of Pakistani or Afghan origin available in most of the rest of the country. He is uncompromising as to why heroin caught on - it was just so good. Renton makes no bones as to the reason for his increasingly dependent relationship with heroin - its the pleasure and the escape it gives him; he's well aware of the negative consequences but naively believes he can handle it . Mr Welsh also seems to want to make a point about AIDS but that point never seems to come through with any forceAs always, a lot of this is very funny. An episode with Spud and an ageing Dutch chanteuse (who sounds very much as though she is based on Nico) had me laughing out loud. Ali feels the need to date a man who manages to set himself on fire at a barbecue her hilarious experiments in lesbianism having been something of a failure. Renton deals with racist neighbours with amusing viciousness -although there are consequences. Giro the dog finishes off the wraps of speedBut a lot of it is very dark; not just the descriptions of junkie desperateness, deviousness, and dilemmas - Welsh portrays the dank, squalid world of the junk sick user brilliantly, because he also makes you understand why they want to continue. But you're expecting this - we've all read Trainspotting after all, or we wouldn't be here. But there are plenty of other horrors; some of these include Sick Boy living up to his name in a myriad of ways, but especially in the grooming and corruption of the 15 year old Maria; one of the most grimly depressing story arcs I've read for a while. Renton, and his relationship with his autistic (and that's putting it mildly) younger brother, wee Davie. Renton choosing heroin over a girl he genuinely seems to love (although as we find out later, its more complicated than that), the whole folly of rehabilitation and the depressing cynicism with which the Leith crew exploit it, Begbie's atrocious treatment of a girl who is pregnant to him and many othersWelsh gets the little details right too; he is bang on with the music of the time and bang on about the miner's strike and football hooliganism. I don't know that his depiction of London accents or Newcastle accents are as successful as his Leith accents though...All in all this is excellent, probably the best of the trilogy. Essentially, its Renton's book and we get to learn a lot more about him. But all the characters retain their essential rogueish loveability - it would be great to know how middle age is treating them, if in fact they made it that far