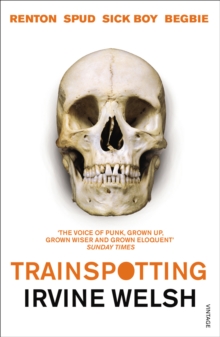 Description
The bestselling novel by Irvine Welsh that provided the inspiration for Danny Boyle's hit filmChoose us.
Choose life. Choose mortgage payments; choose washing machines; choose cars; choose sitting oan a couch watching mind-numbing and spirit-crushing game shows, stuffing fuckin junk food intae yir mooth.
Choose rotting away, pishing and shiteing yersel in a home, a total fuckin embarrassment tae the selfish, fucked-up brats ye've produced.
Choose life.
Information
Format: Paperback
Pages: 448 pages
Publisher: Vintage Publishing
Publication Date: 11/07/1994
ISBN: 9780099465898
Other Formats
Paperback from £7.65
EPUB from £4.99
eAudiobook MP3 from £9.60
Free Home Delivery
on all orders
Pick up orders
from local bookshops
Reviews
Showing 1 - 1 of 1 reviews.
Review by villy83
16/06/2015
Synopsis:Set in the mid 80's, Trainspotting is a gathering of short stories featuring a group of youngsters from Leith (Scotland). All of them are either heroin users or engaged in destructive activities, which are portrayed as addictions, serving the same function as heroin addiction.Personal opinion:I loved this book! Set in Scotland, it gives a good taste of what must be like to be wandering through the outlying areas of its cities. It's also written (almost every chapter) in "phonetic scottish", which adds realism and authenticity to the story.The novel is an acid approach to the life of junkies and other related people who tend to withdraw from society. We can easily grasp what they think, how they feel, or why do they interact with society the way they do. After all, their addictions are a means to escape from a world they don't belong.Narration is one of the most fascinating aspects. Every character has his own way of thinking, talking to himself and to interact with others, so that it's not hard to guess who is telling each story.Another interesting point is the way they regard society, morality and other varied stuff, like drugs, babies ("bairns"), death or friendship. There are also some brilliant moments in which (generally Renton) they speak about life, leaving some notorious excerpts for the posterity.Personally, I think that the writer implies that it's so hard to choose the life you'd want, specially when you come from marginal backgrounds; at least, that's what Trainspotting has meant to me. The passage that gives title to the novel is self-explainatory: it gives a general idea of the story as a whole, without giving you the details about how you should interpret it.To sum up, I recommend it to every hardcore reader who wants a fun and transcendent book. It can be confusing sometimes, but it's superbly written and deserves every single half of the rating stars: