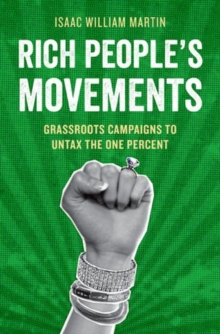 Rich People's Movements : Grassroots Campaigns to Untax the One Percent
Hardback
Description
On tax day, April 15, 2010, hundreds of thousands of Americans demonstrated with signs demanding lower taxes on the richest one percent.
Where do protest movements like this come from? Rich people are an unpopular minority with plenty of political influence.
Why would rich people need to demonstrate in the streets to demand lower taxes-and why would anyone who wasn't rich join in the protest on their behalf?
Such rich people's movements are hardy perennials of American politics.
Ever since the ratification of the Sixteenth Amendment in 1913, they have emerged whenever public policies are perceived to threaten the property rights of rich people.
The protesters on behalf of the rich have picked up the protest tactics of the poor and powerless because they have been organized and led by activists who have acquired their skills and protest techniques from other social movements, from the Populists andProgressives of the early twentieth century to the feminists and anti-war activists of the mid-twentieth century.
At times when conservative Republicans are in power, rich people's movements have helped to bring about some of the biggest tax cuts for the rich in American history.
This is the untold story of the tax clubs and Tea Parties that have shaped American politics and policy for the last hundred years.
Information
Format: Hardback
Pages: 304 pages
Publisher: Oxford University Press Inc
Publication Date: 03/10/2013
Category: Central government policies
ISBN: 9780199928996
Other Formats
EPUB from £17.09
PDF from £17.09
Also in the Studies in Postwar American Political Development series | View all