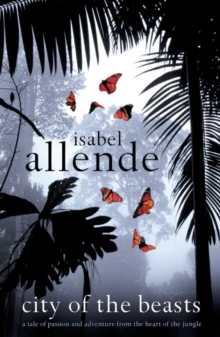 City of the Beasts
Paperback
Description
An ecological romance with a pulsing heart, equal parts Rider Haggard and Chico Buarque - one of the world's greatest and most beloved storytellers broadens her style and reach with a Amazonian adventure story that will appeal to all ages.Fifteen-year-old Alexander Cold has the chance to take the trip of a lifetime.With his mother in hospital, too ill to look after him, Alex is sent out to his grandmother Kate - a fearless reporter with blue eyes `as sharp as daggers' points'.
Kate is about to embark on an expedition to the dangerous, remote world of the Amazon rainforest, but rather than change her plans, she simply takes Alex along with her.
They set off with their team - including a local guide and his daughter Nadia, with her wild, curly hair and skin the colour of honey - in search of a fabled headhunting tribe and a legendary, marauding creature known to locals as the `Beast', only to find out much, much more about the mysteries of the jungle and its inhabitants.In a novel rich in adventure, magic and spirit, internationally celebrated novelist Isabel Allende takes readers of all ages on a voyage of discovery and wonder, deep into the heart of the Amazon.
Information
Format: Paperback
Pages: 416 pages
Publisher: HarperCollins Publishers
Publication Date: 24/05/2003
ISBN: 9780007146376
Free Home Delivery
on all orders
Pick up orders
from local bookshops
Reviews
Showing 1 - 5 of 5 reviews.
Review by mjiko
16/06/2015
I was given this book by someone who hadn't realised that it's a children's book, as for some reason (in the UK at least) it's been marketed solely as an adult book. I'm really not sure why this is, as although it's a great adventure story for 12 to 14 yr olds there's not really anything deeper to hold the interest of an adult.
Review by iftyzaidi
16/06/2015
I haven't read any Isabel Allende before, so this, the first in a trilogy of adventure novels for YA readers may not exactly be representative of her work, but I was in the mood for a light read. Incidentally, I don't read much YA books either. I noticed many of the reviews tend to compare this, either favourably or unfavourably to Harry Potter. Not having read any of the Harry Potter books, I can't really comment on that either. What I can say is that this is an entertaining adventure story, packed with exotic locations and an exciting quest, which is engaging without really managing to be enthralling.The story follows young Alexander Cold, a 15 year old American boy whose mother has unfortunately contracted cancer. While his father looks after her, Alexander is sent to live with his grandmother, a tough, whiskey-swilling journalist for 'International Geographic' who wouldn't win any prizes for wise parenting. She drags Alexander off to a trip deep into the Amazon searching for a mythical Beast (sort of a Bigfoot like creature). This is an adventure story in the mould of Indiana Jones (though much more culturally sensitive, thank goodness). Probably the best parts of the book are when the expedition is making its way up the Amazon river where Allende's descriptions of the flora and fauna in all their wild abundance and variety are particularly effective.
Review by sarah_rubyred
16/06/2015
The Indiana Jones movie had similarities to this, though I think this wins hands down. I love teen books!
Review by seekingflight
16/06/2015
Alex's mother has cancer, and he is sent off to his grandmother in New York while she undergoes chemotherapy. His grandmother makes little or no allowance for his youth, and thinks nothing of having him accompany her on a trip to the Amazon, in search of the legendary 'Beast'. (I suppose I'm not the only one who thought 'Heart of Darkness' at this point, and it perhaps wasn't an entirely inappropriate comparison.) I liked the way in which the book was grounded with such a realistic beginning, and I loved the enticing descriptions of the Amazon, its danger and its beauty. I enjoyed the coming of age elements of the story, where Alex and his friend Nadia both meet challenges, overcome their fears, and (of course!) learn things on their journey.But the fantasy elements of the story didn't really appeal to me (and seemed a bit weak, in comparison to some of these other parts of the book), and I felt a little disappointed overall.
Review by unlikelyaristotle
16/06/2015
At first I was wary of this book, when I realized there would be odd non-human characters walking around in the amazon - I'm not a great fan of fantasy - but this turned out to be a great read. The characters - even the supernatural ones - were fun to read about, but I would limit the description of this book to just that: fun. Still definitely worth a read!