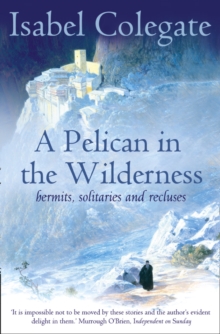 A Pelican in the Wilderness : Hermits, Solitaries and Recluses
Paperback / softback
Description
Celebrated novelist Isabel Colegate explores the lives and works of those who have followed the call of solitude, from Lao Tzu and the Desert Fathers to Wordsworth and Thoreau. "A Pelican in the Wilderness" casts through time and place to uncover tales of human solitude.
The quest for solitude - whether for social, religious, personal or intellectual reasons - dates back to ancient times.
As a spiritual phenomenon it has its roots in Chinese, Hindu and Western philosophies; from the mystical Desert Fathers - the most famous of which was St Jerome - who cast themselves out into deserts and wastelands in search of spiritual revelation, to the Celts on Iona and Lindisfarne (who arrived with only onions to live on).
Rousseau found solitaries inspirational, but declared that he would die of boredom if he had to become a hermit himself (a view possibly shared by St Jerome who only managed to stay in the desert for two years).
Hermits and hermitages even used to be a feature of rural and urban England.
Sir John Soane had a hermit's cell installed in his house in Lincolns' Inn.
At Hawkstone in Shropshire in the 1780s it was reported that a live hermit was seen gazing at a human skull. And in the 18th-century it was seen as highly fashionable to place a hermitage in landscaped gardens; an advert would then be placed for a hermit, specifying particular requirements such as a promise not to cut hair, nails or beard.
In return the hermit would receive food and a small gratuity.
One hermit in Painshill, Surrey was sacked for drinking beer in the village inn.
But of course, recluses, solitaries, hermits, anchoresses (female solitaries) and "loners" continue to exist to this day, quietly opting to live outside society or living in complete seclusion in wildernesses.
Isabel Colegate examines their lives, motivations, self-reflections, writings and the thoughts of present-day urban and rural hermits.
Information
Format: Paperback / softback
Pages: 320 pages, 20 b/w illus, Index
Publisher: HarperCollins Publishers
Publication Date: 17/02/2003
Category: Literary studies: general
ISBN: 9780006531883
Free Home Delivery
on all orders
Pick up orders
from local bookshops