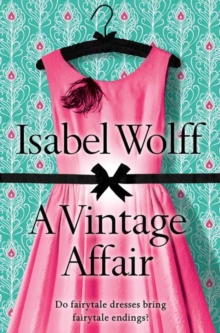 A Vintage Affair : A Page-Turning Romance Full of Mystery and Secrets from the Bestselling Author
Paperback
Description
Do fairytale dresses bring fairytale endings? Every dress has a history, so does Phoebe... Phoebe always dreamt of opening her own vintage dress shop.
She imagined every detail, from the Vivienne Westwood bustiers hanging next to satin gowns, to sequinned cupcake dresses adorning the walls. At the launch of Village Vintage, Phoebe feels the tingle of excitement as customers snap up the fairytale dresses.
Her dream has come true, but a secret from her past is casting a shadow over her new venture. Then one day she meets Therese, an elderly Frenchwoman with a collection to sell, apart from one piece that she won't part with ... As Therese tells the story of the little blue coat, Phoebe feels a profound connection with her own life, one that will help her heal the pain of her past and allow her to love again.
Information
Format: Paperback
Pages: 432 pages
Publisher: HarperCollins Publishers
Publication Date: 01/01/2009
ISBN: 9780007245826
Free Home Delivery
on all orders
Pick up orders
from local bookshops
Reviews
Showing 1 - 5 of 10 reviews.
Previous | Next
Review by jlrobinson99
16/06/2015
I haven't read chick lit in quite some time, but have always enjoyed Isabel Wolff. A Vintage Affair did not disappoint. This isn't your typical chick lit novel - girl does meet boy and there are complications, but that isn't the real story here. Instead, A Vintage Affair examines friendships and the promises we make/break through the experiences of Phoebe and Mrs Bell. I think charming is a good way to sum up this book. I gulped it down in one sitting.
Review by pokarekareana
16/06/2015
Fun and frothy in places, serious and moving in others. The plot was a little predictable in places but I liked Wolff's characters and the parallels with Mrs Bell's life worked very well - historical drama meets chick-lit, and well executed!
Review by elbakerone
16/06/2015
Phoebe Swift, reeling after the loss of her childhood friend, leaves her prestigious job at Sotheby's auction house to open her own vintage dress shop. With a keen eye for fashion and an open ear for her customers, Phoebe has a talent for matching people with their ideal dress or accessories. While buying a collection of dresses from an elderly woman, Phoebe comes across a child's antique blue coat in pristine condition and the story behind the garment draws Pheobe into its owner's life. Phoebe soon discovers that only by revisiting the past can she hope to really move forward with her life. <i>A Vintage Affair</i> was a wonderful book. Multiple story lines are woven together in tale that is as artistic and charming as the garments that provide an anchor to tie them together. The book is a clever mix of family drama, historical fiction, friendship, romance, and fashion. The characters are well-drawn and entirely believable and the supporting cast is equally as interesting as the heroine. Isabel Wolff has taken a couturier's eye in crafting every detail of this beautiful novel.
Review by Letter4No1
16/06/2015
Meet Phoebe Swift. She has just left her job to start a high end vintage clothing store, Village Vintage. She's in the middle of a bad break-up, her best friends death and her parents drama. With her Village Vintage taking off she is introduce to two very different but interesting love interests, meets a fascinating old woman and buys some awesome clothes. Not being one who typically reads chick lit I am always surprised by how easy it is to get absorbed by the few good story's that exist in the genera. The characters are all pretty typical, but the Vintage shop is a nice touch and really makes the story interesting. There is an underlying World War II story that stretches throughout the novel and gives it more depth then expected. Overall it was a fun, super quick read (I read it in two days and it's 340 pages). If you're looking for the next great novel, you'll be sadly disappointed but if you're looking for a great escape for summer you're in for a good time.
Review by ametralladoras
16/06/2015
Won this in Library Thing's Early Reviewer's Giveaway.Quick Read!! Really engaging chick-lit (I know, I always thought that was an oxymoron too!) About a woman who owns a vintage clothing store and her stories seem to come alive through these articles of clothing