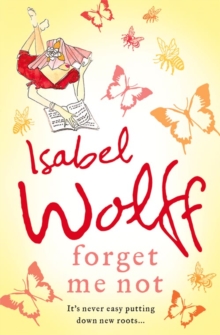 Description
The sparkling new novel from the bestselling author of `A Question of Love.'It's never easy putting down new roots...After the sudden death of her mother, Anna Temple realises she needs to live for the moment and pursue her dream of becoming a garden designer.
Swapping hedge funds for herbaceous borders, and shares for scented stocks, she says goodbye to City life for a fresh start in the country.But on the eve of her sparkling new future she meets the gorgeous Xan and their chance encounter changes her world in more ways than she could ever imagined - enter baby Milly.Juggling her new business with the joys and fears of motherhood is a struggle, especially alone and when Anna unearths a long-buried family secret, skeletons tumble from the closet.
Suddenly nothing is as it seems, past or present...
Information
Format: Paperback
Pages: 352 pages
Publisher: HarperCollins Publishers
Publication Date: 01/10/2007
ISBN: 9780007178308
Free Home Delivery
on all orders
Pick up orders
from local bookshops
Reviews
Showing 1 - 3 of 3 reviews.
Review by Fantasma
16/06/2015
2007 was the year I discovered Isabel Wolff and what a great discovery that was. I thought she was just another chick lit author but her books are much more than that. Her heroines are brave, strong, intelligent women who lead ordinary lives and laugh and suffer just like the rest of us, and the male caracters have flaws like everyone else.Anna Temple has gone through some difficult times, her mother dies suddenly and then she finds herself pregnant of a man who decides not to stay with her. The book is the story of how she deals with all that, through tears and laughter. More of Ms Wolff, please!
Review by CookieDemon
16/06/2015
After having enjoyed `A Vintage Affair' so much recently, I was keen to try one of the author's other books and see if it read just as beautifully as that one. I was pleased to find that this was another wonderful, emotional read; women's fiction with real substance to it and very well written characters that I came to care about.This book features thirty-something City-worker Anna, whose conventional life is turned on its head when she unexpectedly finds herself facing life as a single mother, after having recently lost her own mum. Amidst the grief and loss, Anna is determined to make a new life for herself and her daughter, even if that means completely changing her career.The overall message of the story is basically `life is short, so make the most of it. Sometimes the most unexpected of things can happen.' I enjoyed this book as it is told in a very nostalgic, reminiscing way as Anna reflects back on times spent with her mother as well as her relationship with Milly's father. As a keen gardener myself, I also loved all of the references to flowers and gardening that were interspersed within the story- particularly Anna's mum's words of wisdom about her daughter finding herself a `perennial' man, rather than a hardy annual! There is some beautiful scene setting in the story too, particularly at the beginning when Anna and her father are clearing out Anna's childhood home and Anna reflects back on growing up there. It was sad though, particularly the descriptions of Anna's father being `aged with grief.' I found in Wolff's other book that I grew a bit emotional unexpectedly in certain points and it was the same here, too. I think if you have ever lost someone close to you then this book might get to you.As an aside, there were some things about this book that I didn't particularly like which is why I have deducted a star. A personal pet peeve of mine is children's `baby talk' within the text- spelled exactly the way a young child would say it. I'm sure a reader understands how young children talk after all, so it's really not necessary to have this emphasised in the text- nor is it `cute.' Whenever toddler Milly said anything I really found myself noticeably cringing and it did spoil certain aspects of the story for me. Also, some of Xan's dialogue was beyond awkward- particularly as he kept referring to Anna as a `glacier.' Ugh. Some chat-up line. Also, like the other book, I found the epilogue of this one to be a bit short- I would have like it to have been expanded a bit more on the romantic front.Niggles aside, this was still a lovely story to read with twists and turns and family secrets and not too maudlin either given that the theme of grief featured quite predominantly in it, though I did prefer `A Vintage Affair' to this one, as for me, that storyline was a bit stronger and more imaginative. I would recommend this novel however if you enjoy women's fiction with a bit of substance about it and with great characterisation. I will be reading more by this author in future. *This review also appears on Amazon.co.uk*
Review by AnneBrooke
16/06/2015
This was a cut above the usual chick lit offering, and I thoroughly enjoyed it. The main character, Anna, was both charming and sparky, and I loved reading about her adventures through unexpected motherhood and setting up her new gardening business.The cast of characters was also very good indeed, and it's a definite page turner. I've not read any Wolff before, but will be looking out for her books in the future. Plus the romantic ending was perfect and a great choice for the character. A fabulously uplifting read.