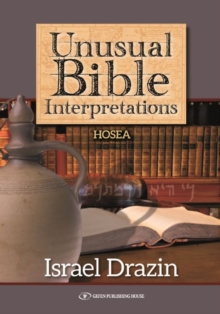 Unusual Bible Interpretations : Hosea
Hardback
Description
The prophet Hosea discusses topics that stand at the core of Jewish thought such as moral conduct, the correct mode of worship, the Jewish people's relationship with God, and repentance.
The Talmud even credits Hosea with developing the idea of repentance, a concept that has become the central theme of the High Holidays.
Yet the book is filled with obscure words and rich imagery, which make it particularly difficult to understand.
Through a detailed analysis of the words of the prophet and his story, Dr. Drazin unpacks the book's messages for the modern reader.
Information
Format: Hardback
Pages: 200 pages
Publisher: Gefen Publishing House
Publication Date: 15/01/2017
Category: Old Testaments
ISBN: 9789652298881