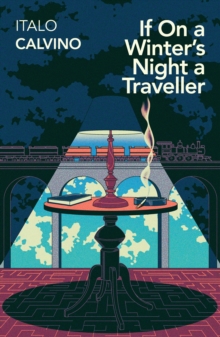 If On A Winter's Night A Traveller
Paperback
Description
Calvino's masterpiece opens with a scene that's reassuringly commonplace: apparently.
Indeed, it's taking place now. A reader goes into a bookshop to buy a book: not any book, but the latest Calvino, the book you are holding in your hands. Or is it? Are you the reader? Is this the book? Beware. All assumptions are dangerous on this most bewitching switch-back ride to the heart of storytelling.
Information
Format: Paperback
Pages: 272 pages
Publisher: Vintage Publishing
Publication Date: 01/02/1992
Category: Classic fiction (pre c 1945)
ISBN: 9780099430896
Other Formats
Hardback from £10.19
EPUB from £4.99
Paperback from £5.99
Free Home Delivery
on all orders
Pick up orders
from local bookshops
Reviews
Showing 1 - 5 of 6 reviews.
Previous | Next
Review by hippietrail
16/06/2015
Very original and inventive. Close to perfect. Read it!
Review by dmsteyn
16/06/2015
Watch out, Reader; here everything is different from what it seems, everything is two-faced…You are about to read a review of If on a Winter's Night a Traveller by Italo Calvino… Ok, I will not attempt to mimic Calvino's style, though it would be interesting to write a review referring to a second-person You or Dear Reader. In any case, If on a Winter's Night a Traveller is a brilliant book in more ways than one. Not only does it tell an affecting story, but it is also a bit of a puzzler, with multiple stories told within the main story.Calvino begins the book with a scene that introduces the mind-bending scope of the book: A reader goes into a bookshop to buy a book; specifically, Italo Calvino's new book, If on a Winter's Night a Traveller. The same book I am reviewing. Or is it? This is only one of the tricks in Calvino's hall of mirrors. The main story of the book concerns the Reader (me?), his experience of reading different books, and his meeting with the Other (female) Reader. Each time the Reader begins to read a book (beginning with If on a Winter's Night a Traveller), just when the book's opening premise is being unfolded, he (the Reader is male) is interrupted in his reading by some or other unexpected event. The first time, it is because the book has been bound incorrectly, with the same opening section repeating. When he goes to the bookshop to get a new version, he meets the Other Reader, who has the same problem. And so a strange journey to the heart of reading begins, with the Reader exploring different books while trying to get into a relationship with the Other Reader.After a while, you realise that the main story and the other stories are not hermetically sealed from each other; they influence each other in subtle, often unobtrusive ways. The strange thing is that the main story seems more realistic than the other stories, initially at least. At first, it also seems more prosaic than the other stories the Reader reads. But this is thrown out of the window later, as the Reader chases Ludmilla (ah, the Other Reader has a name!) around the world. The main story still remains more "formulaic" than the other stories: it is the classic boy meets girl, boy tries to get into girl's pants story (a simplification, true, but still). As with Calvino's Invisible Cities, the subsidiary stories often seem like they could be more interesting than the main story. It seems that Calvino takes great joy in letting his imagination run free when creating scenarios, but he prefers to string the reader (the Reader?) along and then leave him (her?) hanging. Some of the secondary stories obviously cannot be taken further than the initial scenario, as they are circular, even insular, in construction, but some others seem like brilliant openings that could lead anywhere.Calvino has entertaining things to say about reading and reading habits. This, for instance, could be the motto for anyone with a to-be-read pile of books:In the shop window you have promptly identified the cover with the title you were looking for. Following this visual trail, you have forced your way through the shop past the thick barricade of Books You Haven't Read, which were frowning at you from tables and shelves, trying to cow you. But you know you must never allow yourself to be awed, that among them there extend for acres and acres the Books You Needn't Read, the Books Made For Purposes Other Than Reading, Books Read Even Before You Open Them Since They Belong To The Category Of Books Read Before Being Written. And thus you pass the outer girdle of ramparts, but then you are attacked by the infantry of the Books That If You Had More Than One Life You Would Certainly Also Read But Unfortunately Your Days are Numbered.And so on. My favourite category of books Calvino mentions has to be the Books That Fill You With Sudden, Inexplicable Curiosity, Not Easily Justified. Yes, dammit, you books know who you are! Calvino's eccentric humour also shines through in this section.He also writes entertainingly about writers and their existential condition. For instance, he has a whole section of the main story related through the diary of "Silas Flannery", a mock Irish writer. At the end of this section, Flannery writes:I have had the idea of writing a novel composed only of beginnings of novels. The protagonist could be a Reader who is continually interrupted. The Reader buys the new novel A by the author Z. But it is a defective copy, he can't go beyond the beginning… He returns to the bookshop to have the volume exchanged…Oh, what a tangled web Calvino weaves! Everything is smoke and mirrors, even the ending.I thought this book was very clever – perhaps too clever, but that is debatable. I enjoyed it immensely, and will soon be reading more of Calvino's books. But now it is time to read something a bit more straightforward…
Review by clfisha
16/06/2015
It starts with a beautiful description of a reader, a long eulogy almost to our wants and needs, our tortures of the to be read list (and has a wonderful list for next years 1111 challenge!) and then the story begins.. or not. Instead it's a description of the noir tale "If On a Winters Night A Traveller". A sublime piece of MetafictionBut then a horrid jolt a printing error, the 1st chapter repeated forever without end. So the reader (a version of "you") goes to investigate, the original noir tale genre bleeding out into reality with a femme fatale and a mystery: the book you started wasn't even the book by Calvino it was someone else entirely. So there's a replacement and we (you) restart it but guess what? Oh yes your right: it isn't the same and also, well it seems to have a printing error too.So it begins, a constant starting of stories connected through the tale of one readers life. Names, themes and styles echo each other throughout this book. The tropes of westerns and conspiracy's, Russian literature all effect the main tale, which is told in torturous yet sublime 2nd person. There is wry humour, much musing on the nature of reading and of authors and many many pastiches. Each beginning is tantalising (if sometimes uneven) and I admit I wasn't familiar with all the styles. Still it was a lot of fun and the writing was superb (think wonderful long flowing sentences that were both a joy to read and sometimes too hard).I guess in the end liking this book depends on how much post modernist antics you can take, whether the constant restarting of the tales annoys or amuses you and whether the thought of 2nd person makes you shudder. Personally I loved it, it made me gleefully read bits out to boyfriend and lets face it the main protagonist was just great ;)I still want to know how If on a winters night a traveller ends though.
Review by MrsFionaC
16/06/2015
I've wanted to read this book for years, purely based on the title. It was nothing like I was expecting - it's a post-modern tour de force, which is more about why we read and what we experience or expect when we do read, rather than a straightforward narrative. A quotation from the book sums it up: "He always feels as if he is on the verge of grasping the decisive point, but then it eludes him and he is left with a sensation of uneasiness".Beautifully written, thought-provoking, and clever, but don't read it you are looking for a story in which to lose yourself.
Review by xuebi
16/06/2015
A book about reading and books, Calvino creates a post-modern story that actually involves the reader in the novel's plot. Every second chapter is told in the second-person as you, the reader, continue your quest for the eponymous book; while the odd-numbered chapters show Calvino's proficiency at writing different genres, from western to mystery. Though unique at the time of writing, in the current post-modern scene, it may seem hackneyed; nevertheless, If On A Winter's Night A Traveller is a delight for those who love to read.