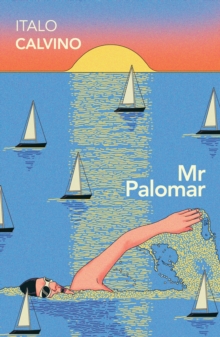 Description
Mr Palomar is a delightful eccentric whose chief activity is looking at things.
He is seeking knowledge; 'it is only after you have come to know the surface of things that you can venture to seek what is underneath'.
Whether contemplating a fine cheese, a hungry gecko, a woman sunbathing topless or a flight of migrant starlings, Mr Palomar's observations render the world afresh.
Information
Format: Paperback
Pages: 128 pages
Publisher: Vintage Publishing
Publication Date: 11/07/1994
ISBN: 9780099430872
Free Home Delivery
on all orders
Pick up orders
from local bookshops
Reviews
Showing 1 - 4 of 4 reviews.
Review by yawn
16/06/2015
This book captivated me when I first read it and still has a firm hold. It has a clarity of prose and vision and a clever structure. Whilst its considered, engineered and symmetrical form may put some people off, it completes it for me. Calvino's last book, and his best.
Review by AndrewBlackman
16/06/2015
Mr. Palomar sets out to examine every possible aspect of his life and the world around him, trying to name everything and categorise everything scientifically. Of course he fails, and it's in the episodes of life squirming away from his rigid attempts at classification that the absurd humour comes. The arrangement of the book corresponds to Palomar's classification attempts, being broken up into sections, sub-sections and sub-sub-sections, with each section having three sub-sections and each sub-section having three sub-sub-sections dealing with three different categories of experience. There is no real plot to speak of.The result, for me, was that although some of the details were beautiful and the descriptions insightful, it felt like notes for a book rather than a book itself. Each sub-section is just two or three pages, and the book itself is little over 100 pages, so no idea seems to get fully developed. You end up with a collection of fragments, each one often quite clever and even entertaining, but not seeming to add up to any kind of meaningful whole.
Review by HadriantheBlind
16/06/2015
A dryly witty and well-crafted story of a man who tries to find order and reason in the chaos of the universe. Calvino makes such a deadening premise shine. Incredibly funny and philosophical in equal measure. Mathematical in structure, despite the uncertainty of Mr. Palomar's thought. A fine collection.
Review by xuebi
16/06/2015
A different approach by one of Italy's greatest modern authors, Mr Palomar is Calvino's attempt to define one man's existence in a series of rigidly-contained chapters. Evidence of Calvino's days as a part of a group of writers using literary constraints, Mr Palomar is a exercise in precision: each word and sentence is carefully chosen to make an impact, and the final chapter is proof of this alone. <br/><br/>Perhaps Mr Palomar is a book to read having already read some of Calvino's other works but it is worth the read for it is a reflective book on life itself.