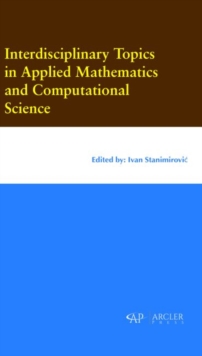 Interdisciplinary Topics in Applied Mathematics and Computational Science
Hardback
Description
This book lists general information about a Monte Carlo simulation methodology in radio.
In addition to providing general information, the text also constitutes a specification of the first generation of software SEAMCAT (spectrum engineering advanced Monte Carlo analysis tool) that uses the Monte Carlo method applied to radio cases. The problem of unwanted emissions, an important factor affecting the efficiency of radio spectrum use is the subject of an in-depth treatment in various forums both internal and external to the European Conference of Postal and Telecommunications Administrations (CEPT).
While the need to re-evaluate the limits of unwanted emissions within Section 3 of the Radio Regulations (RR) is supported, it is generally considered to be preferable to use for this purpose a generic method.
One of the many reasons why generic methods are preferred is their ability, a priori, to deal with new systems and communication technologies as they arise.
Another reason is that only a generic method can aspire to become the basis of an analytical tool widely recognized. The tool for radio Monte Carlo simulation described in this report was developed based on the above considerations, in the process of the European Radiocommunications Committee (ERC). SEAMCAT is the application of a Monte Carlo simulation model for radio, developed by a group of CEPT administrations, members of the European Telecommunications Standards Institute (ETSI) and international scientific bodies.
SEAMCAT is a computer program whose object code is public, being distributed by the European Radiocommunications Office (ERO) of the CEPT. Computing and information technology area courses have as objectives the training of human resources for the technological development of computing (hardware and software) in order to meet society's needs for the application of computer technology in the interests of society and the formation teachers for middle and vocational education.
Between the needs of society can be met with the aid of computers can be mentioned: storage of large volumes of information of all kinds and shapes and their recovery in an acceptable time; computing complex mathematical calculations in extremely short time; secure communication, fast and reliable; automation, control and monitoring of complex systems; fast computing repetitive calculations involving large amounts of information; processing images from different sources; games and tools to support teaching, etc. Application examples are found in the daily routine of companies (computing involving economic, financial and administrative information generated by business activities, industrial and services); in processing images generated by satellites for weather forecasts; in related to health activities (hospitals, doctors' offices and public health agencies); in air traffic control systems; communication via the Internet; in the banking system, etc.
The computation is for man an indispensable and fundamental tool in modern life. In the context of higher education in the field of Information Technology and its generation processes and automation of knowledge, we must consider the importance of curricula that can effectively prepare critical people, active and increasingly aware of their social roles and its contribution to scientific and technological advancement of the country.
The social, humanitarian and ethical content of such training must orient curricula to ensure the expansion of human capabilities in close relation to the technical and scientific learning in the field of Computer and Information Technology.
It is therefore a higher education in which individuals are also being trained to deal with human and ethical dimensions of knowledge and social relations. Applications of computing and computer area courses can be composed of four major areas of training:Basic training, which comprises the basic principles of the area of computing, computer science, mathematics necessary to define them formally, physics and electricity needed to enable the understanding and design of viable computers technical and pedagogical training that introduces the basic knowledge the construction of knowledge, necessary for the development of the practice of computer education. Technological formation applying the basic technological development in computingAdditional training allowing an interaction of the graduates of the courses with other professions
Information
Format: Hardback
Pages: 275 pages
Publisher: Arcler Education Inc
Publication Date: 01/11/2017
Category: Applied mathematics
ISBN: 9781773610702