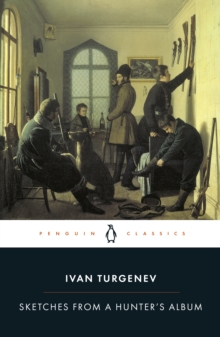 Sketches from a Hunter's Album
Paperback
Description
Turgenev's first major prose work is a series of twenty-five Sketches: the observations and anecdotes of the author during his travels through Russia satisfying his passion for hunting.
His album is filled with moving insights into the lives of those he encounters - peasants and landowners, doctors and bailiffs, neglected wives and bereft mothers - each providing a glimpse of love, tragedy, courage and loss, and anticipating Turgenev's great later works such as First Love and Fathers and Sons.
His depiction of the cruelty and arrogance of the ruling classes was considered subversive and led to his arrest and confinement to his estate, but these sketches opened the minds of contemporary readers to the plight of the peasantry and were even said to have led Tsar Alexander II to abolish serfdom.
Information
Format: Paperback
Pages: 416 pages
Publisher: Penguin Books Ltd
Publication Date: 30/08/1990
Category: Classic fiction (pre c 1945)
ISBN: 9780140445220
Free Home Delivery
on all orders
Pick up orders
from local bookshops
Reviews
Showing 1 - 5 of 5 reviews.
Review by vesnaslav
16/06/2015
Although Turgenev never intentionally set out to overthrow Russian serfdom when he penned this collection of vignettes around 1850, that was precisely what occured. Fiercely empathetic toward the peasants, Turgenev himself was well educated and upper class. Philosophically, he was also a Westernist, spending a great deal of his adult life abroad, including France.This collection of short stories, however, is distinctively Russian in its locale, thought and soul. The main characters are, in essence, not the narrator and his hunting companion, but rather the peasants they encounter, the vast expanse of sky, the open fields and woods of the Russian provinces.Turgenev exquisitely describes the joy of pheasant hunting and the great outdoors.By far, the most poignant story involves a young woman who is nearly fading from this life. Living Relic deals with a peasant woman who sustained a ridiculous but grave injury while stepping off her porch. No longer able to take care of herself, indeed, not able to do much more than lie on her bed and pleasantly speak to any who might pass by, Lukeria embraces the joyous spirit which had always been hers. She tells the narrator, after nearly losing her breath, "I don't need anything. I am quite content, praise God!" Through each story Turgenev writes of the vastness of Russia and the grandness of her indomitable spirit.
Review by martin1400
16/06/2015
Turgenev lays bare the injustices and arbitrariness of the serf system simply through recounting stories in which the humanity of all the characters, good, bad and middling, and with all their flaws, is allowed to speak, and his breathtakingly beautiful evocations of the natural world of the Russian countryside create the background and context. There's humour too, as there must be in all accounts of human interactions, and pathos which at times is almost unbearable. As with the 'A Russian Gentleman' and 'Years of Childhood' volumes of Sergei Aksakov's autobiographical trilogy, Turgenev's 'Sketches from a Hunter's Album' seems to take you to the actual living reality of rural Russia under serfdom. A wonderfully evocative book and a joy to read.
Review by Bernicia1949
16/06/2015
I read no Russian; but I bought this, hoping to replace the old copy I have put out by Signet in the 60s. Whatever the quality of the translation--and perhaps someone who also reads Russian can let me know--the Penguin version is very much inferior in use of the English language and its tone (as of cultured people in the post-Napoleanic, pre-American Civil War period). Instances: the description of a game bag, in the Signet version "embroidered in worsted" in the Penguin version simply "worsted"; or "One beautiful July morning I rode over to his place"(Penguin) versus "One fine July morning I went over to his place on horseback" (Signet). In the second case "rode" could have been on one of several kinds of wheeled vehicle which in other places the hunter used. Or "They're cutting it [the wood]down," (Penguin) instead of "I'm having some timber felled there."I've seldom been so disappointed in a book!
Review by HadriantheBlind
16/06/2015
A truly excellent collection of short stories. I confess that Turgenev's most popular work left me cold, but this more than made up for it. Excellent stories and parables about the nature and beauty and tragedy of life across all layers of society. The only fault I could find was almost certainly due to the clunkiness of the translation, which I won't let detract from my admiration this time. Excellent stuff.
Review by jwhenderson
16/06/2015
In his Preface to "The Seasons" the Scottish poet James Thomson said, "I know no subject more elevating, more amazing, more ready to poetical enthusiasm, the philosophical reflection, and the moral sentiment than the works of nature. Where can we meet such variety, such beauty, such magnificence?"This is a theme that runs through the Sketches From a Hunter's Album. The beauty of the sylvan glade or the summer sun glistening off the meadows flowers is brought to life by the prose of Turgenev in these vignettes. Certainly the characters are also finely drawn and include all social stratas while emphasizing the narrator's interactions with peasants and serfs. It is the latter that impress the reader by the respect and generosity with which they are treated. The combination of fascinating characters and beautiful nature writing made this book a joy to read. I found myself looking forward to the next chapter with expectation that I would be treated to another even more interesting facet of the countryside and its denizens. I was not disappointed until the end of the book and only then because I did not want it to end.Considering this book was first published in 1852 after having appeared serially as separate sketches, it is a further wonder because the serfs would not be freed for another decade. These short stories revealed Turgenev's unique talent for story-telling. And they greatly influenced Russian short story writers into the early 20th century, including Anton Chekhov, Ivan Bunin, Alexander Kuprin and others. The stories remain fresh today, even in translation, and reward the reader with their magnificence. But let me leave you with a quote from Turgenev himself that expresses my feelings as well:"the deep, pure blue stirs on one's lips a smile, innocent as itself; like the clouds over the sky, and, as it were, with them, happy memories pass in slow procession over the soul"