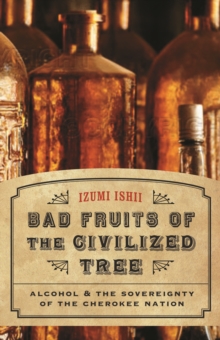 Bad Fruits of the Civilized Tree : Alcohol and the Sovereignty of the Cherokee Nation
Hardback
Description
Bad Fruits of the Civilized Tree examines the role of alcohol among the Cherokees through more than two hundred years, from contact with white traders until Oklahoma reached statehood in 1907.
While acknowledging the addictive and socially destructive effects of alcohol, Izumi Ishii also examines the ways in which alcohol was culturally integrated into Native society and how it served the overarching economic and political goals of the Cherokee Nation.
Europeans introduced alcohol into Cherokee society during the colonial era, trading it for deerskins and using it to cement alliances with chiefs.
In turn Cherokee leaders often redistributed alcohol among their people in order to buttress their power and regulate the substance's consumption.
Alcohol was also seen as containing spiritual power and was accordingly consumed in highly ritualized ceremonies.
During the early-nineteenth century, Cherokee entrepreneurs learned enough about the business of the alcohol trade to throw off their American partners and begin operating alone within the Cherokee Nation.
The Cherokees intensified their internal efforts to regulate alcohol consumption during the 1820s to demonstrate that they were "civilized" and deserved to coexist with American citizens rather than be forcibly relocated westward.
After removal from their land, however, the erosion of Cherokee sovereignty undermined the nation's ongoing attempts to regulate alcohol.
Bad Fruits of the Civilized Tree provides a new historical framework within which to study the meeting between Natives and Europeans in the New World and the impact of alcohol on Native communities.
Information
Format: Hardback
Pages: 278 pages
Publisher: University of Nebraska Press
Publication Date: 01/04/2008
Category: History of the Americas
ISBN: 9780803225060
Free Home Delivery
on all orders
Pick up orders
from local bookshops
Also in the Indians of the Southeast series | View all