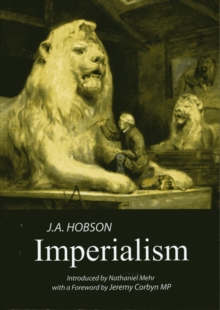 Imperialism: A Study
Paperback / softback
Description
In his Preface to the 1902 first edition of Imperialism: A Study, imperial critic J.A.
Hobson demonstrates his prophetic talents by noting, just as the Victorian age was ending and World War I was brewing, that "Imperialism has been adopted as a more or less conscious policy by several European States and threatens to break down the political isolation of the United States." Though the book speaks mostly of British imperialism of the period, Hobson inevitably explores the general principals-and hidden motives-of imperialist policy.
Hobson covers: . the commercial value of imperialism . imperialism as an outlet for population . economic parasites of imperialism . imperialist finance . moral and sentimental factors . and much more. With imperialism again a hot topic in the political arena, Hobson's treatise continues to lend invaluable, necessary insight into a complex ideology.
British writer JOHN ATKINSON HOBSON (1858-1940) was an historian and economist as well as a popular lecturer on the topics.
His other books include The Evolution of Modern Capitalism (1894), The Economics of Distribution (1900), The Economics of Unemployment (1922), and the autobiographical Confessions of an Economic Heretic (1938).
Information
Format:Paperback / softback
Pages:336 pages
Publisher:Spokesman Books
Publication Date:25/10/2012
Category:
ISBN:9780851247885