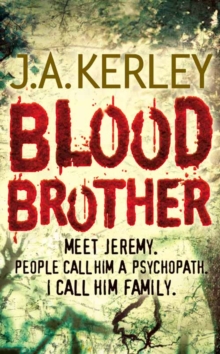 Description
The spine-chilling serial killer thriller featuring Carson Ryder - the homicide detective with a hidden secret that could destroy his careerThese brothers have murder in their veins.
Detective Carson Ryder's sworn duty is to track killers down.
He's never revealed the fact that his brother, Jeremy, is one of America's most notorious killers - now imprisoned.
Secretly, Ryder has used Jeremy's homicidal insight to solve cases.
He's made a career out of it. Now his brother's escaped and is at large in New York.With Jeremy the chief suspect in a series of horrifying mutilation-murders, a mysterious video demands Ryder be brought into help.
It looks like a straightforward manhunt. It couldn't be more different - or more terrifying. A dangerous cat-and-mouse game develops between Jeremy and the NYPD, with Ryder in the middle, trying to keep his brother alive and the cops in the dark.
But it's a game of life, death and deceit, a game with an unknown number of players and no clear way of winning...
Information
Format: Paperback
Pages: 448 pages
Publisher: HarperCollins Publishers
Publication Date: 01/07/2008
Category: Crime & mystery
ISBN: 9780007269075
Free Home Delivery
on all orders
Pick up orders
from local bookshops
Reviews
Showing 1 - 1 of 1 reviews.
Review by SmithSJ01
16/06/2015
I haven't read any of Jack Kerley's books although I do own another one (which I can't wait to read now). I read this in one sitting this morning, primarily because I could't put it down. This is the fifth book featuring the detective Carson Ryder and I do intend to read the others. I don't know however if I have missed out any specific information with not having read the other four first. I don't feel like I have but you never know. The crimes are quite disturbing - to which I was thrilled. The gorier reading the better for me. The psychopath on the loose is Carson's own brother and I'm guessing that if I had read other books I might know more about him but I was happy following the revelations as they were made. The writing is great, if this is Kerley's usual standard then there is nothing to disappoint from his other novels. A good mix of narrative and dialogue with the chapter lengths just right also. I couldn't visulaise Carson, the Alabama homicide detective, very clearly and this frustrated me as I always like to picture the characters. The plot however more than made up for this. It was delicious! As described on the back of the book it is a 'cat and mouse' hunt - but who is the cat and who is the mouse? With twists and turns beyond belief I was determined not to let anything get in the way of finishing this in one go. A few hours later with cramp in my legs, I unfolded myself from the settee as one happy reader. Fabulous!
Also in the Carson Ryder series | View all