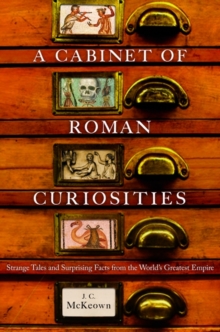 A Cabinet of Roman Curiosities : Strange Tales and Surprising Facts from the World's Greatest Empire
Hardback
Description
The ancient Romans have left us far more information about themselves than has any other Western society until much more recent times.
But what we know about them is sometimes bizarre, and hardly fits the conventional view of the Romans as a pragmatic people with a ruthlessly efficient army and a very logical and well ordered language.
A Cabinet of Roman Curiosities is a serendipitous collection of odd facts and opinions, carefully gleaned from the wide body of evidence left to us by the Romans themselves.
Each highlights a unique and curious feature of life in ancient Rome.
Readers will find a plethora of trivial but fascinating facts about Rome, from the fantastical (a description of werewolves) to the quotidian (styles of chamber pots), and from the refined (dining etiquette of Pompeiians) to the crude (punishments for mutineers).
The author has organized the entries around major themes-e.g., The Army, Women, Education, Foreigners, Spectacles, etc.-making the book easily accessible for quick browsing or for more deliberate consumption. Throughout, the purpose of the enterprise is to amuse and to stimulate an interest in the ancient world's most remarkable and abundantly documented empire.
Information
Format: Hardback
Pages: 272 pages, numerous halftones
Publisher: Oxford University Press Inc
Publication Date: 01/06/2010
Category: European history
ISBN: 9780195393750
Other Formats
EPUB from £1.94
PDF from £1.94
Free Home Delivery
on all orders
Pick up orders
from local bookshops
Reviews
Showing 1 - 2 of 2 reviews.
Review by Unkletom
16/06/2015
'A Cabinet of Roman Curiosities' is a collection of miscellanea about the Roman Empire that is sorted into chapters by subject matter, covering everything from family life to kings and emperors. No snippet takes more than a minute to read so it is an easy book to pick up and read anywhere, be it on a bus, in a doctor's waiting room or even in the bathroom. I was reluctant to mention the last one but, since an entire chapter is dedicated to toilets, I figured it was apropos. Most are quotes from familiar faces such as Seneca, Cicero, Plutarch or Pliny the Elder but others are gleaned from assorted sources dug up by anthropologists over the centuries. As with any collection of information or quotations, some parts will be fascinating and others will be rather droll. Still others just leave you scratching your head in wonder. One entry reminded me of the the old 'I, state-your-name' gag from Animal House when a grave was found with the inscription "Here lies the body of a child whose name is to be added". All in all this is an enjoyable read. No classically decorated bathroom should be without a copy.
Review by RandyStafford
16/06/2015
Whether you're a fan of Barry Baldwin's "Classical Corner" column in the Fortean Times, a fan of the tv series Rome: The Complete Series, or already a Roman history buff but can't remember if it was in Cassius Dio or the Historia Augusta where an 11 year old Commodus ordered a slave to be burned for too cold of bath water, this is the book for you.From the clever octopus that stole garum out of a warehouse to graffiti in Pompeian brothels to the paucity of praenomina in the latter republic to the sadisms and mere eccentricities of emperors, this is an always lively and amusing book. Each curiosity is never more than a page long, often a single paragraph. McKeown has constructed the whole thing so that you can dip in anywhere though, occasionally, there is a reference to something you would have come across if you would have read the book the traditional cover-to-cover way. Most of the bits are taken from classical works, but he sometimes goes off on modern tangents like comparing the multi-tasking of Caesar to President James Garfield, noting the inaccuracies of Fascist Italian cinema in recreating the Punic Wars, and the horror of French novelist Stendahl at British tourists. And, channeling Pliny the Elder, he notes that he's left it up to his classical sources to verify the truth of their tales.The specific topics McKeown covers are Roman family life, women, names, education, military, naval matters, the law, farming, medicine, religion, philosophy, attitudes toward foreigners, slaves, animal tales, spectacles, decadence, food and drink, architecture, sex, timekeeping, and rulers. Throw in a helpful glossary about famous sources, people, concepts, and places and several illustrations - especially of coins, and this is a keeper for anyone interested in Roman history no matter where they are in their studies.