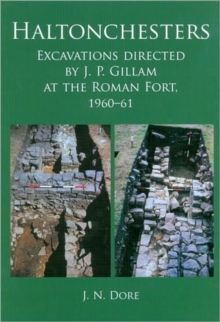 Haltonchesters : Excavations Directed by J. P. Gillam at the Roman Fort, 1960-61
Hardback
Description
This report presents the results of the excavations directed, in 1960 and 1961, by Mr J.
P. Gillam within the fort at Haltonchesters. The work was carried out in the area to the south of the B6318 Newcastle to Carlisle road and to the west of the lane which runs from the B6318 to Halton village.
Within this area lie the western part of the central range of the fort, a section of the west wall of the fort (including the porta quintana ), the north end of the west half of the retentura and part of an annexe attached to the west side of the fort. After the death of J.P. Gillam in 1986, his plans, Finds Book and photographs were transferred to the Archive of the Department of Archaeology in Newcastle.
The late John Dore carried out an evaluation of the archive material and stratigraphic analysis between 1990 and 1994 and a draft text was in existence by 1995. His work is presented in this volume, which serves as a memorial to J.P.
Gillam and John Dore and their contribution to current understanding of Rome's frontier in northern Britain.