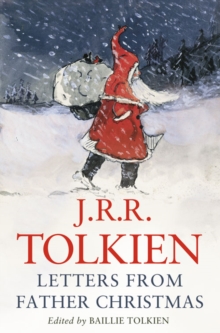 Letters from Father Christmas
Paperback
Description
The first ever B-format edition of Tolkien's complete Father Christmas letters, including a new introduction and rare archive materials.Every December an envelope bearing a stamp from the North Pole would arrive for J.R.R.Tolkien's children.
Inside would be a letter in strange spidery handwriting and a beautiful coloured drawing or some sketches.
The letters were from Father Christmas.They told wonderful tales of life at the North Pole: how all the reindeer got loose and scattered presents all over the place; how the accident-prone Polar Bear climbed the North Pole and fell through the roof of Father Christmas's house into the dining-room; how he broke the Moon into four pieces and made the Man in it fall into the back garden; how there were wars with the troublesome horde of goblins who lived in the caves beneath the house!Sometimes the Polar Bear would scrawl a note, and sometimes Ilbereth the Elf would write in his elegant flowing script, adding yet more life and humour to the stories.
No reader, young or old, can fail to be charmed by the inventiveness and `authenticity' of Tolkien's Letters from Father Christmas.To mark ten years since the publication of the complete edition of Tolkien's Letters from Father Christmas in 1999, this new edition is the first time the letters have been available in B format.
Information
Format: Paperback
Pages: 160 pages, 60 col illus
Publisher: HarperCollins Publishers
Publication Date: 01/10/2009
Category: Fantasy
ISBN: 9780007280490
Other Formats
Hardback from £9.85
CD-Audio from £9.89
EPUB from £5.49
eAudiobook MP3 from £4.79
Free Home Delivery
on all orders
Pick up orders
from local bookshops
Reviews
Showing 1 - 3 of 3 reviews.
Review by shanaqui
16/06/2015
There are very few Christmas themed books that I'm likely to enjoy -- they all seem so gimmicky -- and only one album of Christmas music that I will consent to listen to (Thea Gilmore's Strange Communion). But this one is lovely, probably because it wasn't really meant to be a commercial thing: Tolkien wrote these letters and illustrated them for his own children. This volume is a nice little edition, not just copying the text but including images of them as well.<br/><br/>It's barely a mouthful, of course, and it's not the most astonishing and original thing Tolkien ever did -- but it has little glimpses of his humour and skill.
Review by AbigailAdams26
16/06/2015
Beginning in 1920, when his oldest son, John, was three years old, and continuing through 1942, by which time Michael, Christopher and Priscilla had joined the Tolkien family, J.R.R. Tolkien - author of such fantasy classics as <u>The Hobbit</u> and <u>The Lord of the Rings</u> - wrote and illustrated a yearly missive from Father Christmas, mailed to his children through the post, or magically smuggled into their house, sometime Christmas Eve night. Beginning with the 1925 letter, this collection - edited by Tolkien's daughter-in-law Baillie - reproduces the text of those letters, and the artwork that accompanied them. There is also a selection, notably including the first letter, from 1920, of facsimile reproductions of "Father Christmas's" own hand-written sheets.**What lucky children those Tolkiens were! Imagine receiving such entertaining little stories every year, complete with darling illustrations, and creative little details, like the hand-crafted "arctic" stamps and postage marks. What great care Tolkien obviously took with these letters, and what a delightful result! From the well-meaning but bumbling North Polar Bear, whose accidents were always endangering Father Christmas' scheduled gift delivery, to the long-suffering Father Christmas himself, patient and amused (mostly) at the foibles of his companion and assistant, everything about these stories appealed to me. Like so many other readers, I was struck by themes here - particularly as it relates to the ever-present threat of Goblins - that reminded me of Tolkien's greater works of epic fantasy. Definitely one that children with a fondness for Santa tales will want to read (I think I may dig out my copy of L. Frank Baum's <u>The Life and Adventures of Santa Claus</u>, and contrast and compare), as will Tolkien fans interested in the evolution of his storytelling.**The edition I read, sadly, left off with the 1939 letter, although I understand that later reprints contain all of them, including those from 1920-24 and 1940-42.
Review by Bagpuss
02/03/2016
I defy anyone not to be charmed by this lovely, beautifully illustrated book - written by Tolkien in the form of letters from Father Christmas (and friends) to his children as they were growing up. Utterly charming!