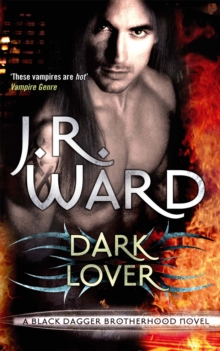 Dark Lover : Number 1 in series
Paperback
Description
In the shadows of the night in Caldwell, New York, there's a deadly turf war going on between vampires and their slayers.
There also exists a secret band of brothers like no other - six vampire warriors, defenders of their race.
Among them, none relishes killing their enemies more than Wrath, the leader of the Black Dagger Brotherhood...The only pure-bred vampire left on the planet, Wrath has a score to settle with the slayers who murdered his parents centuries ago.
But when one of his most trusted fighters is killed - orphaning a half-breed daughter unaware of her heritage or her fate - Wrath must usher the beautiful female into the world of the undead...Racked by a restlessness in her body that wasn't there before, Beth Randall is helpless against the dangerously sexy man who comes to her at night with shadows in his eyes.
His tales of brotherhood and blood frighten her. But his touch ignites a dawning hunger that threatens to consume them both...
Information
Format: Paperback
Pages: 480 pages
Publisher: Little, Brown Book Group
Publication Date: 01/02/2011
Category: Fantasy
ISBN: 9780749955229
Free Home Delivery
on all orders
Pick up orders
from local bookshops
Reviews
Showing 1 - 1 of 1 reviews.
Review by Lauren2013
16/06/2015
Dark Lover
3 Stars

Synopsis
As the half-human daughter of a vampire warrior, Beth Randall is one the verge of huge changes in her life. In order to survive her transition, Beth will require the help, and blood, of a vampire male. Wrath, the fierce leader of the Black Dagger Brotherhood and the last pure-blood vampire is the perfect candidate and as a result of his debt to Beth's father finds himself in the unwanted position of helping Beth. However, when the two come together sparks fly and they are irresistibly drawn to one another.

Review

This is my second attempt at starting Dark Lover as I was initially unable to suspend my disbelief in order to complete the book. Things went more smoothly this time perhaps because I have read more PNR since then. Even though the first sex scene between Beth & Wrath made absolutely no sense to me,(what woman who has just been the victim of a sexual assault has sex with a complete stranger), I was able to get past it.

Let's begin with the most problematic aspects of the book - the plot and the dialogue. The story is mediocre to say the least. The villain is completely one dimensional and his plan to destroy the vampires overly simplistic. Moreover, his name, Mr. X, kept reminding me of Steven Williams' more ominous character in The X-Files, and as such, his failure to deliver is even more disappointing. In addition, the Satanic-like cult, whose members smell like baby powder, cannot possibly be considered a serious threat and are merely slightly annoying.

The dialogue is truly awful. The male characters sound like overgrown teenagers making a lame attempt at "gangster speak". Seriously? What rational adult uses words like "bro", "deal", what's up", "zip it" etc.?

On a more positive note, the vampire mythos is interesting and well developed. The fact that the vampires eat food is particularly appealing as the lack of food consumption is the one thing that bothers me about vampires in other series such as Lara Adrian's Midnight Breed and Tina Folsom's Scanguard's Vampires.

The romance between Beth and Wrath is enjoyable and they make a cute couple, especially at the end. Their fight scene with the Lessers is also entertaining.

While it is difficult at first to distinguish between the various members of the brotherhood, they ultimately develop singular personality traits and become very intriguing, especially Rhage (can't wait to find out more about his curse), Zsadist (can't resist a tortured hero) and Butch (his relationship with Marissa has definite potential).

In conclusion, despite my issues with this book, I will give the next one a try as I've heard that the series does improve in later installments.
Also in the Black Dagger Brotherhood Series series | View all