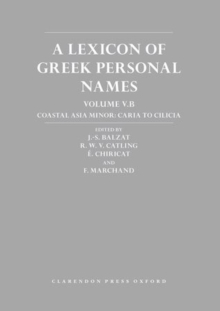 A Lexicon of Greek Personal Names : Volume V.B: Coastal Asia Minor: Caria to Cilicia
Hardback
Description
This is the seventh volume of the Lexicon of Greek Personal Names to be published, a work which offers comprehensive documentation of named individuals in the Greek-speaking world in the period from c. 700 BC to 600 AD, drawn from all sources (predominantly written in Greek and to a lesser extent in Latin).
It is the second of three volumes that comprise the personal names attested in Asia Minor.
This particular volume is concerned with its southern coast,incorporating the ancient regions of Caria, Lycia, Pamphylia, and Cilicia, and thus completes coverage of the coastal regions.
The volume documents more than 44,500 individuals who between them bore in excess of 8,400 different names.
In contrast to those parts of Asia Minor facing the Aegean, Propontis, and Black Sea, there was little Greek settlement along the southern coast.
So, in this volume particular interest attaches to the very large number of non-Greek names originating in the languages of the indigenous peoples of these regions - Carian, Lycian, Sidetic, and Pisidian - all of them descended from theHittite-Luwian languages spoken in Anatolia in the second and early first millennia BC.
The volume provides the raw material that allows us to see how indigenous names gave way first to Greek and later to Latin names, and how the pace of these changes varies from one region to another as one aspect of those processes of acculturation labelled as 'hellenization' and 'Romanization'.
It contains a detailed introduction which addresses the definition of each of the regions and their cultural identity in terms both of geography and language and onomastics.
It also guides the userthrough some of the problems of topography, dialect, and the treatment of non-Greek names, as well as providing some detailed statistics that point to interesting regional patterns.
Information
Format: Hardback
Pages: 532 pages
Publisher: Oxford University Press
Publication Date: 20/04/2014
Category: linguistics
ISBN: 9780198705826
Free Home Delivery
on all orders
Pick up orders
from local bookshops
Also in the Lexicon of Greek Personal Names series | View all