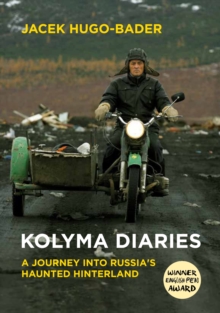 Kolyma Diaries : A Journey into Russia's Haunted Hinterland
Paperback
Description
From the author of the award-winning White Fever, Kolyma Diaries is an excursion into one of the world's last remaining badlands, a place full of Gulag ghosts and living wrecks.
All along the 2000 kilometres of the Kolyma highway, Bader is plied with vodka.
He hears mesmerizing, sometimes devastating, tales of the journeys that brought his 'fellow travellers', the people who give him lifts, to this benighted land.
This is a book about the descendants of prisoners eking out a living, of conmen and veterans and scrap iron dealers, of corrupt politicians and organised crime.
Stories are told of sons given away, husbands who reappear after three decades, scholars who now survive by foraging for mushrooms and berries, sculptors who hoard the heads lopped off statues of Lenin, miners who dig up mass graves while looking for gold, and all the addicts, convicts, fallen heroes and even sportsmen who run away from their troubles and end up in the most remote region in Russia
Free Home Delivery
on all orders
Pick up orders
from local bookshops
Also by Jacek Hugo-Bader