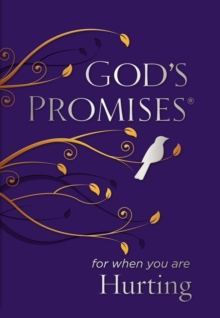 God's Promises for When You are Hurting
Paperback
Description
A wonderful selection of scripture focused on hope, encouragement, and comfort for difficult times.
When someone we know is faced with grief and pain, it's often difficult to find the right words to bring the consolation and support they need.God's Promises (R) for When You Are Hurting is extremely helpful by providing 58 topics of select Scripture promises of comfort and hope during such times.
Whether struggling with illness, loss, divorce, confusion, doubt about God and His ways, and more, the promises found in God's Word bring abundant reassurance and continual healing while walking through the deep valleys of life.
This is a wonderful and lasting gift for easing the pain and encouraging the heart for better days ahead. Four sections of topics include: What to do When You Are. . .Grieving, Lonely, Depressed, and more. . . What to do When You. . .Need Confidence, Need Patience Now, Are Facing Disappointment, and moreTruth from the Bible About. . .God's Plan for Your Life, Speaking God's Word, Answered Prayer, and moreThe Love of God Is Healing for Your Life. . .Your Eternal Inheritance, His Never-Changing Promises, and Your Greatest HopeTrim Size: 4.5 x 6.5
Information
Format: Paperback
Pages: 240 pages
Publisher: Thomas Nelson Publishers
Publication Date: 30/07/2015
Category: Christian life & practice
ISBN: 9780718034177
Free Home Delivery
on all orders
Pick up orders
from local bookshops