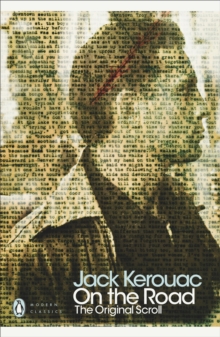 On the Road: The Original Scroll
Paperback
Description
Five decades after it was first published, Jack Kerouac's seminal Beat novel On the Road finally finds its way to the big screen, in a production from award-winning director Walter Salles (Motorcycle Diaries) starring Sam Riley (Control, Brighton Rock), Garret Hedlund (Friday Night Lights), Kristen Stewart (Twilight), Kirsten Dunst, Amy Adams and Viggo Mortensen.This edition is transcribed from the original manuscript: hundreds of typed pages taped together by Kerouac to form a 'scroll', published word for word as it was originally composed.Sal Paradise (Sam Riley), a young innocent, joins his hero Dean Moriarty (Garrett Hedlund), a traveller and mystic, the living epitome of Beat, on a breathless, exuberant ride back and forth across the United States.
Their hedonistic search for release or fulfilment through drink, sex, drugs and jazz becomes an exploration of personal freedom, a test of the limits of the American dream.
A brilliant blend of fiction and autobiography, Jack Kerouac's exhilarating novel swings to the rhythms of 1950s underground America, racing towards the sunset with unforgettable exuberance, poignancy and autobiographical passion.
One of the most influential and important novels of the 20th century, On the Road is the book that launched the Beat Generation and remains the bible of that literary movement.'The most beautifully executed, the clearest and the most important utterance yet made by the generation Kerouac himself named years ago as "beat"' The New York Times
Information
Format: Paperback
Pages: 416 pages
Publisher: Penguin Books Ltd
Publication Date: 05/06/2008
ISBN: 9780141189215
Free Home Delivery
on all orders
Pick up orders
from local bookshops
Reviews
Showing 1 - 1 of 1 reviews.
Review by shanaqui
16/06/2015
My first experience of On the Road was this quotation:<br/><br/>"the only people for me are the mad ones, the ones who are mad to live, mad to talk, mad to be saved, desirous of everything at the same time, the ones who never yawn or say a commonplace thing, but burn, burn, burn like fabulous yellow roman candles exploding like spiders across the stars."<br/><br/>It was actually quoted in a fanfiction, as Axel's favourite book (Kingdom Hearts AU). It's stuck with me, ever since: not the fanfiction itself, but the quotation. For that, I've loved Kerouac from afar, not daring to try reading it because that quote told me all I needed to know.<br/><br/>Actually, I kind of wish I was still in that state of not having read On the Road. Because it's not really my kind of book, and I think I've always known that. There are bits of it that are, well, like fabulous roman candles, but I don't have the patience with the narration to get to them before I'm annoyed. It's not an atmosphere that appeals to me, not a mindset I can really get behind, so...<br/><br/>But On the Road is still deservedly a classic, and the book has travelled with me for long enough -- for a few years, in physical form, between various student houses; for longer than that, with the quotation in my head -- that I feel quite affectionate toward it, and it's going to keep travelling with me.
Also in the Penguin Modern Classics series | View all