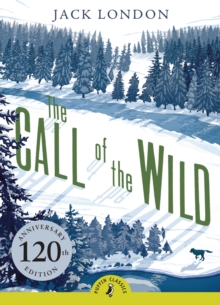 The Call of the Wild
Paperback
Description
Life is good for Buck in Santa Clara Valley, where he spends his days eating and sleeping in the golden sunshine.
But one day a treacherous act of betrayal leads to his kidnap, and he is forced into a life of toil and danger.
Dragged away to be a sledge dog in the harsh and freezing cold Yukon, Buck must fight for his survivial.
Can he rise above his enemies and become the master of his realm once again?With an inspirational introduction by award-winning author Melvyn Burgess, The Call of the Wild is one of the twenty wonderful classic stories being reissued in Puffin Classics in March 2015.
Information
Format: Paperback
Pages: 160 pages, b & w line
Publisher: Penguin Books Ltd
Publication Date: 06/03/2008
Category: Classic
ISBN: 9780141321059
Other Formats
Hardback from £5.09
Paperback from £1.99
CD-Audio from £11.39
Mixed media product from £11.88
Free Home Delivery
on all orders
Pick up orders
from local bookshops
Reviews
Showing 1 - 5 of 5 reviews.
Review by rheasly
16/06/2015
Jack London's classic story tells the intense story of Buck, a dog who is kidnapped for money during the Gold Rush. The Call of the Wild is not always easy to read because not only is the language somewhat different than modern writing, it also explicitly tells of the abuse Buck suffers from the hands of his various masters and fellow dogs. Even though Buck's story is at times violent, it is also a great adventure that is ultimately hopeful. London's novel provides great opportunity to discuss the difficult issues it raises, and gives readers an opportunity to enter the consciousness of a dog. While reading, it is a good idea to have discussions to explain tough language and tough episodes. Ages 10-14.
Review by Oreillynsf
16/06/2015
Nominally the story of a dog who adapts to the ways of the wolfpack, Call of the Wild is also about the hair thin separation between civilized life and our primal origins. London adeptly puts us inside the perspective and thoughts of Buck the dog/wolf, and provides and engaging and exciting story that kids can really get into.
Review by laurajolin05
16/06/2015
I absolutely loved this book! It was an easy read and would be perfect for a Jr high reading level class. The story was easy to follow and I for one did not want to put the book down because I wanted to know more of what was going to happen to the animals in the story. That being said, it was easy to fall in love with most of the dogs as well as hate some of them. It's a great story of survival of the fitest! It shows a historical side by taking place during the gold rush and because dog sled teams used to be a popular method of travel.
Review by kdangleis
16/06/2015
The Call of The Wild by Jack London is a classic adventure story that resonates with YA readers. This story is told by an omniscient narrator, giving readers the information needed to quickly identify with the canine protagonist. YA readers are quickly plunged into the adventure as this well-kept dog finds himself being thrust into the wild. The excitement builds as London provides a series of events which lead to Buck's transformation from domesticated to wild animal. This book is recommended for 12 years and up, and rightfully so. This adventure stands the test of time. It is a story that tweens, teens and adults can relate to and enjoy.
Review by Ireadthereforeiam
16/06/2015
The story is written from the perspective of Buck, the dog. He is large, he is faithful and pragmatic, and he is kidnapped by a worker on the ranch he lives on, and sold to a trader who sends him north to run with a team dragging sleds. Poor Buck is mistreated, and faces a hard run. It is not just humans who are cruel to him, other dogs resent his size and presence, and battles for position as alpha male take place. The dog team are run to the ground, and Bucks saving grace is his size, strength and stamina. He is passed to and from inept and cruel owners until he finally meets an owner he can trust and bond with.It's a nice, if somewhat violent, story. Nothing too deep, but a read that carries you along.