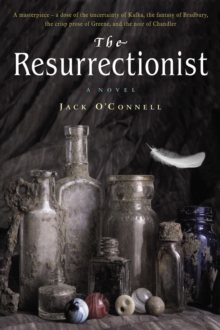 The Resurrectionist
Paperback
Information
Format: Paperback
Pages: 304 pages
Publisher: Oldcastle Books Ltd
Publication Date: 06/02/2009
ISBN: 9781842433065
Other Formats
Paperback from £10.25
EPUB from £4.79
Free Home Delivery
on all orders
Pick up orders
from local bookshops
Reviews
Showing 1 - 2 of 2 reviews.
Review by Philotera
16/06/2015
While I found the book well written, I had problems with it. I was never convinced by the Goldfaden Freaks as a comic series for children, or that parents would let their children become involved in reading such a thing. Maybe I'm mistaken, but I just couldn't buy the premise. Also, it was huge mistake for me to read this on a personal level because my husband was in a coma for a protracted period (yes, he woke up, thanks, he's fine) so I spent a lot of time with him and other coma patients, and so much of what was in here struck me as pure bullshit. Interesting, and perhaps how a writer might imagine it to be, but it didn't resonate for at least one person who's actually been through it.
Review by AHS-Wolfy
16/06/2015
This is the weirdest of the 5 (so far) books in the <i>Quinsigamond</i> series and that is saying something. Sweeney is a man on the edge. Unable to cope with the guilt of not being there when his son Danny's accident occurred he will do anything to try and restore Danny from the coma he's been in ever since. That's all he lives for so when an opening appears at the renowned Peck clinic in Quinsigamond, Sweeney applies and is granted a place for his son amongst the patients. He is also taken on as a pharmacist within the clinic itself. Events don't transpire exactly as he's hoped and soon find Sweeney enmeshed with a biker group that's also made it's way to the rust-belt factory town who have plans of their own for Sweeney and Danny. Which way will Sweeney eventually lean? Who can he trust to do the right thing for his son?Interjected within this story we are also treated to excerpts from Danny's favourite comic book, Limbo, which is about a troupe of freaks forced to flee from their circus home and follow the mystical instructions given to the chicken boy when he enters into Limbo while in the grip of a seizure. While fleeing a mad doctor they're trying to re-unite chicken boy with his long lost father believed to be on the far shores of Gehenna. I did mention that this book was weird, right?The two narratives eventually join up to form a whole that speculates on consciousness and where we go when that is lost and the feelings of guilt and rage of those that get left behind. It also takes a look at how stories can have an effect on people's lives and not always for the betterment thereof. This book will not be everyone's cup of tea, the characters in the main are mostly unlikeable, there's quite a mishmash of elements in the storytelling linking gothic and noirish mystery that will not sit well with everyone. But for me, because I've enjoyed the previous work of the author it seems to have built nicely to this. I wouldn't recommend this as a first experience of his work though but I found it quite compelling.