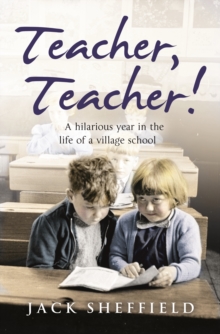 Teacher, Teacher!
Paperback
Description
It's 1977 and Jack Sheffield is appointed headmaster of a small village primary school in North Yorkshire.
So begins Jack's eventful journey through the school year and his attempts to overcome the many problems that face him as a young and inexperienced headmaster.
The many colourful chapters include Ruby the 20 stone caretaker with an acute spelling problem, a secretary who worships Margaret Thatcher, a villager who grows giant carrots, a barmaid/parent who requests sex lessons, and a five-year-old boy whose language is colourful in the extreme. And then there's also beautiful, bright Beth Henderson, who is irresistibly attractive to the young headmaster...Warm, funny and nostalgic, "Teacher, Teacher" is a delightful read that is guaranteed to make you feel better, whatever kind of day you've had.
Information
Format: Paperback
Pages: 336 pages
Publisher: Transworld Publishers Ltd
Publication Date: 15/03/2007
ISBN: 9780552155281
Other Formats
Paperback from £6.29
EPUB from £4.99
eAudiobook MP3 from £8.00
Free Home Delivery
on all orders
Pick up orders
from local bookshops
Reviews
Showing 1 - 4 of 4 reviews.
Review by StoryB
16/06/2015
Anecdotes of school and village life, set in England (in particular, North Yorkshire), in the late 1970's and told by the new principal of a primary school.With most chapters being an extension of the school log book, Teacher, Teacher! is a gentle and warming account of dedicated staff, merry learners and their parents. Centered also on events such as sports day, the school play... each chapter brings fun and quiet wisdom. Teacher, Teacher! is the first in a series of four books. I hope to read them all.
Review by hashford
16/06/2015
When Jack Sheffield gets a job as a headmaster in the little village of Ragley in North Yorkshire he expects it to be quiet, and a little dull. He did not expect, overly opinionated parents, terrifying inspectors, resistant school governors and to be bullied into the cricket team. This is a very funny book, but it has its profound moments. I found it very well written, with an easy flow to it. It's not exactly great literature, but it is a pleasant, relaxing and amusing read, and it gave me a vivid picture of what life for a rural school master would have been like in the 70's.I have read and reviewed this book as part of the Transworld Book Group Reading Challenge.
Review by DeltaQueen50
16/06/2015
In 1977, Jack Sheffield is appointed Headmaster of a small primary school in a village in North Yorkshire. Teacher, Teacher is his semi- autobiographical account of his first year in this tiny village, the events that occur during the school year and the interesting, strange and quirky characters that he encounters. Told in a mild, slighty tongue-in-cheek manner, this is a very readable and gently humorous story. Each chapter starts with a brief entry from the school logbook and then goes on to enlarge upon the details and tells the story behind these entries. These stories often emphasize the importance of the village school to the sense of community, and although Jack tells interesting stories, it is the other characters that provide the color, humor and human interest. These stories range from insights about Ruby, the larger-than-life school janitor to the touching story of a Viet Nam refugee and are warm, funny and nostalgic.I enjoyed Teacher, Teacher but found that it was a book that I had to put down often to give myself a break from the sweetness. While reading of the support, tolerance and understanding that Jack remembers as being the norm of the day, one should remember this is also the time period of the Yorkshire Ripper and that things were not as picture perfect as this book would have one believe. This was the first book in a series of four, and I will probably pick up the second book at some point when I need a warm, comfortable read.
Review by juniperjungle
16/06/2015
This was my third book for the Transworld Book Group challenge, I was really intrigued by the synopsis and as I want to read a little more non-fiction this semi-autobiographical book seemed like a good step to take.<br/><br/>The book covers a school year, each chapter starts with an entry from the school log book and then proceeds to tell the story behind the entry. Whilst many of these stories are funny and thoroughly entertaining, dotted throughout the book are a few more touching and emotional stories. I found that I enjoyed the amusing stories but it was a couple of the touching stories that I carried on thinking about long after I put the book down.<br/><br/>Jack is a great narrator, and way into this small village, but it is the other characters who really steal the book away. There are both adults and children that delight, it would seem mean to pick out any favourites.<br/><br/>My only slight niggle was that Jack occasionally made comments that felt very modern in both their thinking and the language used. I think though that it is because I previously worked with schools that this grabbed my attention, most readers wouldn't notice this.<br/><br/>I really enjoyed this book, I know that there are a further four books in the series and I'm sure that with time I'll be reading them all.