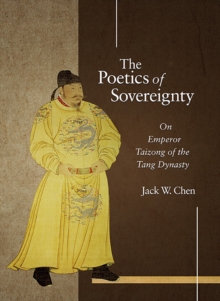 The Poetics of Sovereignty : On Emperor Taizong of the Tang Dynasty
Hardback
Description
Emperor Taizong (r. 626-49) of the Tang is remembered as an exemplary ruler.
This study addresses that aura of virtuous sovereignty and Taizong's construction of a reputation for moral rulership through his own literary writings - with particular attention to his poetry.
The author highlights the relationship between historiography and the literary and rhetorical strategies of sovereignty, contending that, for Taizong, and for the concept of sovereignty in general, politics is inextricable from cultural production.
The work focuses on Taizong's literary writings that speak directly to the relationship between cultural form and sovereign power, as well as on the question of how the Tang negotiated dynastic identity through literary stylistics.
The author maintains that Taizong's writings may have been self-serving at times, representing strategic attempts to control his self-image in the eyes of his court and empire, but that they also become the ideal image to which his self was normatively bound. This is the paradox at the heart of imperial authorship: Taizong was simultaneously the author of his representation and was authored by his representation; he was both subject and object of his writings.
Information
Format:Hardback
Pages:468 pages
Publisher:Harvard University, Asia Center
Publication Date:15/01/2011
Category:
ISBN:9780674056084