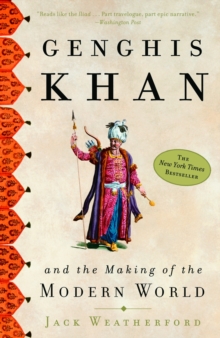 Genghis Khan : And the Making of the Modern World
Paperback
Information
Format: Paperback
Pages: 352 pages, 1 Illustrations, unspecified
Publisher: Random House USA Inc
Publication Date: 08/01/2005
ISBN: 9780609809648
Free Home Delivery
on all orders
Pick up orders
from local bookshops
Reviews
Showing 1 - 5 of 30 reviews.
Previous | Next
Review by ursula
16/06/2015
Most of us have some ideas about Genghis Khan, and those ideas are expressed and propagated in sayings like "He rampaged through like Genghis Khan!" But how accurate is the impression of Genghis Khan as the leader of a marauding horde of violent, merciless, pillaging, uncivilized outlaws? Maybe he was just misunderstood.It turns out, he probably was mostly misunderstood. Okay, young Genghis killed his half-brother when he was 10 so that the brother wouldn't become the head of the household and therefore in a position of power over him. But he also took back his wife after she was kidnapped by a rival tribe - and let no one say anything against his son, who was born suspiciously soon after the wife's return. So he was a complex fellow. But as interesting as his early years are, once he starts rising to power things really get engrossing. Genghis successfully created a Mongol nation out of the wandering tribes that had previously fought relentlessly with each other. He abolished favoritism based on family ties alone and promoted based on merit. He intermarried someone from his family with someone from every group he conquered, or adopted in a child from their culture to show that he was completely integrating the group. If you submitted to his rule, you were spared. If you resisted, you were killed. Pretty simple rules, actually.There's so much more to talk about, but I'll try to keep this short. Essentially, he had the element of surprise on his side in battle tactics because no one else had the horsepower and therefore speed of attack that the Mongols did. He also had that element of surprise in his treatment of conquered peoples, because he drew out those who had skills and made sure those skills were used well, while still not requiring any change of language, customs, or religion. About halfway through the book, Genghis Khan dies and we follow his heirs as Khan, some of whom were successful in the role and some of whom weren't. The most successful (although he didn't rule over the Mongol empire in its entirety) was Kublai Khan in China. Eventually, the Mongol empire disintegrated (due mostly to trade being cut off with the arrival of the bubonic plague) and the reputation of Genghis Khan and his people was reinvented as what we most often hear today.The book is full of fascinating information and written so that it's easily digestible. Great if you already have an interest in the history of this part of the world, but equally great if you're just curious about what Genghis Khan really was.
Review by sergerca
16/06/2015
Fascinating! I knew next to nothing about the Mongol Empire, and what an amazing story I didn´t know. This is a great primer on the subject that will force the reader to add many follow-up reads to get more on the story. This not being a military history, few details are given in that area. Also, the author seems a little overly harsh on the Christians of the day, but I know there is some truth here. All in all, highly recommended, even for someone only mildly interested in the topic.
Review by sabreader
16/06/2015
After reading this book I realized how much I didn't know about world history. I also realized that much of what I learned about European and Russian history was in fact propaganda. Of course by now we shoud expect this, but I have to admit to being surprised.This book, drawing on long-lost primary source documents, as well as on other documents that have been underutilized, draws a fascinating picture of the empire of the Mongols, one that belies the images of barbarity, mindless violence and atrocities. In fact, Weatherford does a good job showing that in many ways the Mongols were well ahead of their time when it came to ruling.Did the Mongols commit atrocities? Well, yes, but no more than European leaders and armies of that time period. And unlike the Europeans, the Mongols didn't impose their religion onto the populations they conquered.Fascinating as well is Weatherford's description of the Mongol attempts to establish ties with Europe, at a time the Europeans were ignorant of the great empire to their east. Also interesting was the key role of the Mongols in the establishment of a united Chinese state. Finally, I remember the maps of what's now Russia and Central Asia with the words "Golden Horde" superimposed on large areas. Turns out the "Golden Horde" was the name of one branch of Genghis Khan's family (the "Golden" family"), and horde means order.This book contains countless and fascinating examples of debunking what we learned about history. It's also a great read. Highly recommended!
Review by armyofbobs
16/06/2015
Not the guy western writers of old described at all. A very interesting book.
Review by baumgarten
16/06/2015
A fascinating read on a part of history to which I had been little exposed. Weatherford's detail in the life of Genghis Khan and the methods of his conquest were the result of impressive study. This book really took me to the Mongolian steppe. There is a huge potential for historical fiction in this era of conquest, traveling merchants, and the world a-changing. Where is the Kipling of this era?The only thing that reduces my rating is Weatherford's bland style. He writes like a scholar and not like a novelist, but that is to be forgiven. We can't all be Patrick O'Brian.
Also by Jack Weatherford