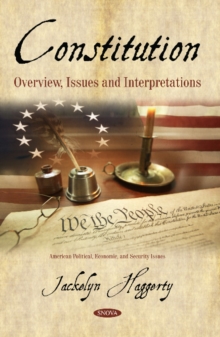 Constitution : Overview, Issues and Interpretations
Paperback / softback
Description
While exercising its power to review the constitutionality of governmental action, the Supreme Court has relied on certain methods or modes of interpretation that is, ways of figuring out a particular meaning of provision within the Constitution.
The first chapter or report broadly describes the most common modes of constitutional interpretation.
The next chapters herein examine the Speech or Debate Clause of the US Constitution; provides an overview of Congresss power under the Constitution and Congresss role in interpreting the nations founding document; and discusses contemporary issues for Congress with regards to Article V of the US Constitution, and the two methods by which the nations founding charter may be amended.
Information
Format: Paperback / softback
Pages: 126 pages
Publisher: Nova Science Publishers Inc
Publication Date: 10/10/2018
Category: Politics & government
ISBN: 9781536141986