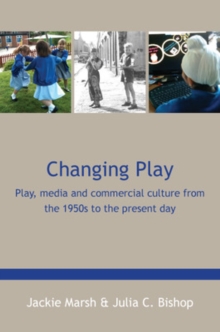 Changing Play: Play, media and commercial culture from the 1950s to the present day
Paperback / softback
Description
This book explores changes in the nature of the relationship between play, media and commercial culture through a comparison of play in the 1950s/60s and the present day, examining the continuities and discontinuities in play over time.
There are many aspects of play which remain the same today as they were sixty years ago, which relate to the purposes of play, the way in which children weave in material from a range of sources in their play, including media, and how they play with each other.
Differences in play between now and the mid-twentieth century are due to the very different social and cultural worlds children now inhabit, in which technology is central to many play activities.
Challenging deficit notions of play in contemporary society and providing evidence to contest the recurrent myth of the disappearance of play, the book: Provides an historical account of changes in the relationship between play, media and commercial culture over the past sixty yearsOffers fascinating, illuminating and direct accounts of children playing in the 1950s / 60s and today Engages with the work of the renowned folklorists Iona and Peter Opie and reviews their legacyAddresses key issues such as outdoor play, technology and play, and gender and play"Changing Play recovers the groundbreaking work of Iona and Peter Opie, making it relevant and consequential for the contemporary study of children, play and media cultures.
Marsh and Bishop convincingly demonstrate how children's play practices, when approached on their own terms, exhibit a persistent dynamism that cannot and should not be reduced to simple exclamations of panic or celebration."Daniel Thomas Cook, Department of Childhood Studies, Rutgers University USA"Using the work of Iona and Peter Opie as a benchmark, Changing Play tracks the continuities in children's play and the changes that have taken place over the past half-century.
The research juxtaposes the memories of children who grew up in the 1950s and 1960s with observations of and conversations with today's children in Sheffield and London; in doing so it allays much of the current anxiety about consumption and the media.
Timely and topical, Changing Play will find its place alongside the Opies' classic volumes." Hugh Cunningham, University of Kent, UKAuthor of The Invention of Childhood"This important new text challenges the prevailing view that children's play has been contaminated by access to digital technologies.
In exploring accounts of children's play from the 1950s and 60s to the present day against the backdrop of rapid changes within media and commercial markets, the authors skillfully reveal the particular ways in which children's play has changed and stayed the same.
In so doing, they invite the reader to reject romantic notions of 'lost childhoods' and embrace the realities and richness of children's play in the 21st century.
I highly recommend this book."Professor Trisha Maynard, Director, Research Centre for Children, Families and Communities, Canterbury Christ Church University, UK
Information
Format: Paperback / softback
Pages: 200 pages
Publisher: Open University Press
Publication Date: 16/02/2014
Category: Social & cultural history
ISBN: 9780335247578
Free Home Delivery
on all orders
Pick up orders
from local bookshops