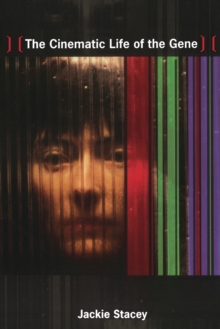 The Cinematic Life of the Gene
Paperback / softback
Description
What might the cinema tell us about how and why the prospect of cloning disturbs our most profound ideas about gender, sexuality, difference, and the body?
In The Cinematic Life of the Gene, the pioneering feminist film theorist Jackie Stacey argues that as a cultural technology of imitation, cinema is uniquely situated to help us theorize "the genetic imaginary," the constellation of fantasies that genetic engineering provokes.
Since the mid-1990s there has been remarkable innovation in genetic engineering and a proliferation of films structured by anxieties about the changing meanings of biological and cultural reproduction.
Bringing analyses of several of these films into dialogue with contemporary cultural theory, Stacey demonstrates how the cinema animates the tropes and enacts the fears at the heart of our genetic imaginary.
She engages with film theory; queer theories of desire, embodiment, and kinship; psychoanalytic theories of subject formation; and debates about the reproducibility of the image and the shift from analog to digital technologies.Stacey examines the body-horror movies Alien: Resurrection and Species in light of Jean Baudrillard's apocalyptic proclamations about cloning and "the hell of the same," and she considers the art-house thrillers Gattaca and Code 46 in relation to ideas about imitation, including feminist theories of masquerade, postcolonial conceptualizations of mimicry, and queer notions of impersonation.
Turning to Teknolust and Genetic Admiration, independent films by feminist directors, she extends Walter Benjamin's theory of aura to draw an analogy between the replication of biological information and the reproducibility of the art object.
Stacey suggests new ways to think about those who are not what they appear to be, the problem of determining identity in a world of artificiality, and the loss of singularity amid unchecked replication.
Information
Format: Paperback / softback
Pages: 344 pages, 52 illustrations
Publisher: Duke University Press
Publication Date: 02/04/2010
Category: Film theory & criticism
ISBN: 9780822345077
Free Home Delivery
on all orders
Pick up orders
from local bookshops