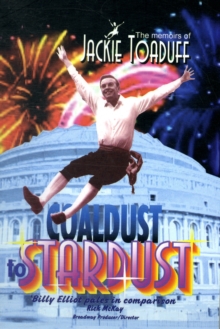 Coaldust to Stardust
Paperback
Description
Jackie Toaduff is the son of a coal miner born in County Durham in the 1930's.
He worked down the pit for over twelve years whilst at the same time making a name for himself as a tap and clog dancer.
He became British Clog-Dancing Champion, making 17 solo appearances at the Royal Albert Hall, his dancing admired by the Prima Ballerina, Margot Fonteyn.
He danced with the likes of Hollywood star, Ginger Rogers and Princess Margaret (and then back to work down the pit the next day).
He and his partner, Roy, enjoyed considerable success onstage and were asked by the War Office to headline several shows abroad for the Combined Services as well as headlining shows in theatres, cabaret and on the QE2.
Jackie has been credited with making clog dancing a spectacle and taking it worldwide.
Jackie demonstrated clog dancing routines at the Royal Ballet Schools (Senior & Junior) and one outcome of these visits was a French ballet, 'La Fille Mal Gardee', incorporating some of the elements of the North country garland and the clog dance steps. More recently, and several generations later, the North-East style of clog-dancing, which Jackie introduced to the Royal Ballet, has manifest itself, with all Jackie's rhythmical skill and vitality too, in the movie 'Billy Elliott'.
Information
Format: Paperback
Pages: 60
Publisher: Peakpublish
Publication Date: 26/11/2009
Category: Ballet
ISBN: 9781907219146
Free Home Delivery
on all orders
Pick up orders
from local bookshops