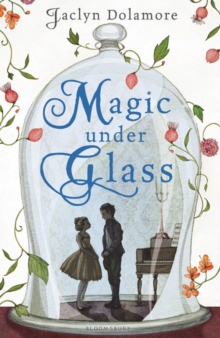 Magic Under Glass
Paperback
Description
Nimira is a music-hall performer forced to dance for pennies to an audience of leering drunks.
When wealthy sorcerer Hollin Parry hires her to do a special act - singing accompaniment to an exquisite piano-playing automaton, Nimira believes it is the start of a new life.
In Parry's world, however, buried secrets stir. Unsettling below-stairs rumours abound about ghosts, a mad woman roaming the halls, and of Parry's involvement in a gang of ruthless sorcerers who torture fairies for sport.
When Nimira discovers the spirit of a dashing young fairy gentleman is trapped inside the automaton's stiff limbs, waiting for someone to break the curse and set him free, the two fall in love.
But it is a love set against a dreadful race against time to save the entire fairy realm, which is in mortal peril.
Information
Format: Paperback
Pages: 240 pages
Publisher: Bloomsbury Publishing PLC
Publication Date: 01/01/2010
Category: General
ISBN: 9781408802120
Free Home Delivery
on all orders
Pick up orders
from local bookshops
Reviews
Showing 1 - 5 of 7 reviews.
Previous | Next
Review by rebecca191
16/06/2015
Seventeen-year-old Nimira had to leave her home and make her own way in the world after her mother died and her father lost the family's fortune. She now lives in Lorinar, where she performs in a music hall and wishes for a better life. When Hollin Parry, a mysterious sorcerer, offers her a job singing with his piano-playing automaton, she eagerly accepts the opportunity. There are rumors that the automaton is haunted but Nimira ignores them, desperate to leave her life in the music hall behind.Hollin Parry's estate is lovely, a welcome change from the bustling city she lived in. But it is also a place full of secrets. The biggest of which is that the automaton is not haunted, but contains the trapped spirit of Erris, a fairy prince. As Nimira falls in love with Erris and attempts to free him from the curse, she is caught up in more danger than she expected.Magic Under Glass is a wonderfully original fantasy from debate author Jaclyn Dolamore. The world she has created is very unique. It is reminiscent of the Victorian era with a bit of steam punk mixed in. If you love young adult fantasy and are looking to read something different and original, be sure to give this book a try. You won't be disappointed! I am very much looking forward to reading more by this talented new author.
Review by twonickels
16/06/2015
Ever since Nimira came to the country of Lorinar with the intention of making her fortune, she has been leered at, exoticized, and made to feel inferior by virtually everyone she meets. While dancing with a troupe of fellow dark-skinned "trouser girls" from Tassim who are treated as a salacious novelty act, she dreams of being discovered by a gentleman who will care for her. Nimira cannot imagine the turns her life will take when it actually happens.Enter Hollin Parry: handsome gentleman, scholar, rich benefactor to young singers. Nimira cannot believe her luck when Hollin asks her to accompany him to his manor house to sing along with his automaton, a strangely realistic mechanical man who plays tunes on the piano. When she arrives, Nimira finds that her life at Hollin's is not all it seems, and she begins to unearth his many secrets.I was really excited when I thought that Hollin was going to be the bad guy. Despite having made a couple of really bad choices in his life, he's a genuinely likable character who seems to love Nimira for all the right reasons. And there's nothing I like better than a well-intentioned bad guy. But there's a much bigger villain pulling the strings – one who's not likable in any way. Hollin is still a believably conflicted character, both in his thoughts and actions, and I enjoyed seeing him struggle with his decisions. Interestingly, I feel like I came away from the book with a better understanding of Hollin than either of the romantic leads.The biggest secret Nimira unearths is the true nature of the automaton, which is really a fairy who is trapped inside a mechanical man by a curse. It is not a surprise that Nimira, who has been made to feel like something inhuman for most of her life and now feels indebted to a man who she does not love, is immediately attracted to Erris, who is similarly trapped and without agency in this world. However, I didn't feel that love develop since their conversations were so short and stilted – for reasons that make perfect sense in the plot, but it still left me wanting more. And let's be honest, creating really great sexual tension is tough when one of the characters is made of metal and can't move. This was one of a few places where I would have liked a little bit further development, which would certainly have been possible in this very short book. I didn't find their budding romance unrealistic, I just didn't feel like I saw it grow.Despite the fast-moving pace of this short book, the world-building is really well done. The reader gets a good sense of both Nimira's home country and of Lorinar, and they are each given their own specific character and customs. We haven't seen much of the fairy world at this point, but I'm sure that it will be similarly developed in later books. Dolamore did a really nice job of using the characters' cultural backgrounds as a base for their personal viewpoints and choices – you could see the differences between the countries in the way that characters reacted to a situation, even when they are going against tradition. I would have loved to hear more about the politics of Dolmore's world. Many political intrigues are hinted at in the book, and I hope that they will move to center stage as Nimira and Erris' story continues.I was surprised, only a few months after the cover change to Justine Larbalestier's Liar, to see Bloomsbury publish another book featuring a dark-skinned, black-haired protagonist with a very white-looking girl on the cover – especially since this looks like it is a cover that was created with a dedicated photo shoot rather than using stock photos. (I could, of course, be wrong about this not being a stock photo.) I think it's probable that the cover for Magic Under Glass was finalized before that controversy took place, but it's still disheartening to see. I hope that we will see changes when the paperback comes out.Review copy provided by publisher.
Review by LarissaBookGirl
16/06/2015
Nimira is a long way from home having travelled over seas to make her fortune. However a fortune never came and nether did the acclamations that she had hoped to receive. Nimira was a singer and a dancer and had been promised to perform for the height of society, but instead she had ended up at the already full world of music-hall performers.As a trouser-girl Nimira's talents were wasted on leering drunks with only mere pennies for her trouble. Although she would never admit it, she long dreams of being swept away by a wealthy gentleman never to see the unseemly stage again, to be rescued into a world of good food, fine dresses and high society.When one night Nimira notices a hansom gentleman in the crowd she dared not hope that he could be the one to rescue her, but he was exactly that. Or so it had seemed at first. But Hollin Parry was no ordinary gentleman for he was a sorcerer and the position he offered to Nimira was no ordinary position.A piano-playing automaton was to accompany Nimira as she sang; it was to be a special act. But Nimira's initial shock of discovering the automatons secret was only the beginning. If she is to have any hopes of saving the clockwork man she must first restore him to being a man. But is he simply a man trapped in a clockwork body, or the ghost of a man haunting an automaton, or something much more sinister.Magic Under Glass hold elements of a fairytale alongside elements of classic literature, with notable influences from Jane Eyre. Issues of class, gender and politics are wrapped in a world of magic and fantasy that stands on the brink of war. Ultimately a love story, Nimira must fight through racism and cultural intolerance, as well as a few ghost stories and the odd mad woman, before she is able to be with the man she loves. But what will happen once she's with him?
Review by phoebesmum
16/06/2015
YA fantasy whose writing doesn't quite live up to the concept. The ending sets it up for a sequel which I doubt I'll bother to read.
Review by shanaqui
16/06/2015
Magic Under Glass was reasonably fun as a quick read -- I think it took me barely more than an hour -- but looking back on it, I find it lacking in substance. I didn't really get attached to the characters and world, or believe in the emotional bonds between the characters, and while I did want things to turn out right at the end, it was hardly nail-biting tension. I liked Annalie best, I think, and Linza: too bad they were secondary characters and plot devices. The prose itself is serviceable without being even slightly exciting, and Nimira's (first person) narration doesn't really offer anything unique.<br/><br/>Not going to read the sequels, I think.