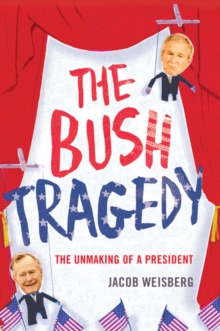 Bush Tragedy : The Unmaking of a President
Hardback
Description
The Bush Tragedy opens up the black box of the plane-crash presidency of George W.
Bush to examine the political wreckage of a period in America's history rapidly drawing to a close.
How did a man of such evident flaws and limited abilities find himself in the position of the most powerful man in the world?
How and why did half of America fall for Bush before falling out with him?
But this book is not a litany of Bush's misdeeds or a personal indictment.
Amongst the wreckage of Bush 43 Jacob Weisberg finds a series of relationships: familial, personal, political and historical.
Weisberg analyses Bush through these relationships, looking at how Bush 43 has defined himself in response to the failures and accomplishments of Bush 41, his idolisation of Ronald Reagan, and his devout Christianity that has led to widely condemned policy decisions that have fundamentally changed the role and position of the United States in the modern world.
This original interpretation of Bush also studies seriously the much-mocked language that he uses as a political tool, helping to carve out the vision of himself as a wartime leader. In the run-up to the presidential elections, this is the starting point for a worldwide debate about undoing the damage.
The Bush Tragedy is a razor-sharp character study of one of the most controversial presidents in American history.
Information
Format: Hardback
Pages: 304 pages
Publisher: Bloomsbury Publishing PLC
Publication Date: 01/02/2008
Category: History of the Americas
ISBN: 9780747593942
Free Home Delivery
on all orders
Pick up orders
from local bookshops