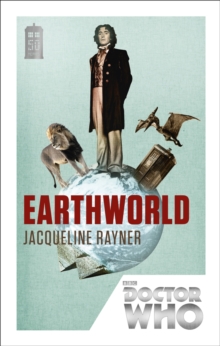 Doctor Who: Earthworld : 50th Anniversary Edition
Paperback
Description
Anji has just had the worst week of her life. She should be back at her desk, not travelling through time and space in a police box.
The Eighth Doctor is supposed to be taking her home, so why are there dinosaurs outside?
The Doctor doesn't seem to know either, or else he surely would have mentioned the homicidal princesses, teen terrorists and mad robots?
One thing is certain: Anji is never going to complain about Monday mornings in the office again. An adventure featuring the Eighth Doctor as played by Paul McGann and his companions Fitz and Anji
Information
Format: Paperback
Pages: 304 pages
Publisher: Ebury Publishing
Publication Date: 07/03/2013
Category: Science fiction
ISBN: 9781849905206
Free Home Delivery
on all orders
Pick up orders
from local bookshops
Reviews
Showing 1 - 1 of 1 reviews.
Review by goorgoahead
16/06/2015
In honor of the 50th anniversary of Doctor Who, BBC Books has reissued/redesigned/reawesomed a series of eleven books -- one for, you guessed it, each Doctor. Earthworld focuses on the Eighth Doctor and his companions Fitz and Anji. What's just supposed to be a quick pop back to Earth -- real Earth -- turns into a trip to New Jupiter, where, of course, trouble ensues.<br/><br/>Fitz and Anji, both new characters to me, were both ones I'd love to spend more time with. Fitz grew up during WWII and fancied himself to be a singer when he met up with the Doctor in the 60s. Anji meets the Doctor and Fitz in 2001 for what was supposed to just be one adventure. They've got pretty rounded-out personalities of their own, and can carry their own storylines well. You miss the Doctor when he's not on screen, so to speak, but Fitz and Anji are both pretty fun to read about anyway.<br/><br/>The book reads just like an episode of the show, which, of course, is the point. The Doctor and his companions, predictably, get separated and all wind up with their own issues and puzzles to solve, and everyone has to rely on their own strengths and intelligence to make sure that they get a happy ending. Some of my favorite parts of the story revolved around the often humourous, close-but-no-cigar interpretations of Earth throughout history that the people of New Jupiter have made. These were responsible for lots of laugh out loud moments on my part.<br/><br/>The book's downfall is really the same as the show: the Doctor often makes completely wacky leaps of logic, and you don't always know how things progressed from point A to point C. Things get very fast paced at times, and scenes switch rapidly between our three main characters. That all can make the plot hard to follow at tines, but it's also true to the source, so I can't really ding the book for that.<br/><br/>This book, and I suspect all books in the series, work best if you have a functional knowledge of Doctor Who, though you certainly don't need to be an expert. I'm more familiar with New Who than the original eight Doctors, but a quick Wikipedia read filled me in more on what Eight got himself up to, and Fitz and Anji's backstories. (And even that was kind of unnecessary, I was just overly curious.) Like the show itself, the book is a fairly clean read, with some violence and sexual innuendo.
Also in the Doctor Who series | View all