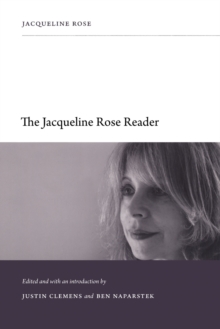 The Jacqueline Rose Reader
Paperback / softback
Description
Jacqueline Rose is a world-renowned critic and one of the most influential and provocative scholars working in the humanities today.
She is also among the most wide ranging, with books on Zionism, feminism, Sylvia Plath, children's fiction, and psychoanalysis.
During the past decade, through talks and pieces that Rose has contributed to the London Review of Books, the Guardian, and other publications, she has played a vital role in public debate about the policies and human-rights record of Israel in its relation to the Palestinians.
Representing the entire spectrum of her writing, The Jacqueline Rose Reader brings together essays, reviews, and book excerpts, as well as an extract from her novel.
In the introduction, the editors provide a profound overview of her intellectual trajectory, highlighting themes that unify her diverse work, particularly her commitment to psychoanalytic theory as a uniquely productive way of analyzing literature, culture, politics, and society.
Including extensive critical commentary, and a candid interview with Rose, this anthology is an indispensable introduction for those unfamiliar with Jacqueline Rose's remarkably original work, and an invaluable resource for those well acquainted with her critical acumen.
Information
Format: Paperback / softback
Pages: 440 pages, 5 illustrations
Publisher: Duke University Press
Publication Date: 25/03/2011
Category: Literary essays
ISBN: 9780822349785