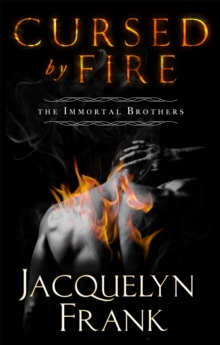 Description
For centuries, Dethan has been trapped in a fiery inferno for defying the gods and snatching the power of immortality.
Condemned to have his battle-hardened body licked by flames only to regenerate and be consumed all over again, Dethan has lost all hope-until the Goddess of Conflict appears.
She will release him from torment-if he'll use his power and strength as a warrior to raise an army and defeat a fierce enemy faction of gods.
Free to live as a man once again, Dethan meets Selinda-heir to the throne of Hexis-and his thoughts quickly turn from the conquest of cities to the conquest of this headstrong beauty.
Betrothed to a cruel, calculating powermonger, Selinda needs a champion, and so Dethan enters into another bargain: If she will share her bed-and her body-with him, Dethan will save her city from destructive forces within and without.
As the lovers ignite a searing passion, Dethan will risk all-even the wrath of the Goddess of Conflict-for a chance to make Selinda his forever.
Information
Format: Paperback
Pages: 384 pages
Publisher: Little, Brown Book Group
Publication Date: 24/02/2015
ISBN: 9780349400808
Free Home Delivery
on all orders
Pick up orders
from local bookshops
Reviews
Showing 1 - 1 of 1 reviews.
Review by wyvernfriend
16/06/2015
Dethan has been tortured for centuries for having dared to snatch the power of immortality with his brothers (hello sequel bait), his body is burnt and then he regenerates only to burn again. He is approached by the Goddess of Conflict who is losing power and is in a war with another faction of gods. She will release him if he will agree to be her champion and raise an army to build her power.He meets Selinda and discovers that she is in need of saving, her city is under siege by a warring tribe and her family is under siege by a powermonger. The two of them are attracted and start to find comfort in each other.Not bad but there were times when I could almost see the bad guy twirling his moustaches. It's set in an alternative world with a blue sun and it feels like quasi victorian mores. I was engaged while reading but when I stood back from it it didn't quite satisfy and the plot-holes were a bit unsubtle.
Also in the Immortal Brothers series | View all