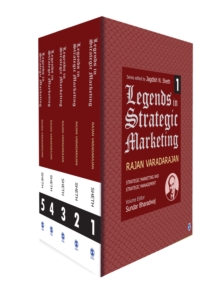 Legends in Strategic Marketing: Rajan Varadarajan
Hardback
Description
The Legends in Strategic Marketing series comprises various sets, each focused on the multiple ways in which a legend has contributed to the field of Strategic Marketing.
While Strategic Marketing is a relatively young discipline, it has been transformative.
It shifted the focus from the descriptive understanding of various functions of marketing to prescriptive managerial actions anchored to future financial outcomes for the company.
The first set in the series consisting of five volumes is a tribute to Rajan Varadarajan, Distinguished University Professor of Marketing at Texas A&M University.
Professor Varadarajan is one of the early pioneers in Strategic Marketing and especially on the impact of external factors such as competition, industry structure, globalization, and technology.
He has equally focused on internal cooperation and conflict across functions, both within marketing and between marketing and other functions.
One specific area of his research is on innovation and how it impacts marketing as well as corporate performance.
His most recent focus on environmental sustainability, especially with the rise of emerging markets, is simply outstanding.
Professor Varadarajan is also a great conceptualizer.
He has several thought-provoking conceptual papers and most of them have won awards for their contributions to the field of Strategic Marketing. Professor Varadarajan is recipient of numerous awards including the AMA Marketing Educator Award.
He is also a Fellow of the American Marketing Association (AMA) and the Academy of Marketing Science (AMS).
He has made significant contributions as Editor of two major journals in marketing: Journal of the Academy of Marketing (JAMS) and Journal of Marketing (JM).
In addition, he has been Vice President of Publications at both the AMS and the AMA. The series is edited by Jagdish N. Sheth, who is the Chares H. Kellstadt Professor of Marketing in the Goizueta Business School at Emory University (USA).
He is the former President of the Association for Consumer Research (ACR) as well as Division 23 (Consumer Psychology) of the American Psychological Association (APA).
Professor Sheth is the coauthor of the Howard-Sheth Theory of Buyer Behavior, a classic in Consumer Behavior, published in 1969. Volumes in this Set:Volume 1: Strategic Marketing and Strategic ManagementEditor: Sundar Bhardawaj, University of GeorgiaVolume 2: Strategic Marketing and InnovationEditor: Tomas Hult, Michigan State UniversityVolume 3: Strategy and PerformanceEditor: Srihari Sridhar, Texas A&M UniversityVolume 4: Inter-organizational Cooperation and Interactive MarketingEditor: Peggy Cunningham, Dalehouse UniversityVolume 5: Environmental Sustainability, Innovations for Emerging Markets and Marketing in Emerging MarketsEditor: Mona Sinha, Kennesaw State University
Information
Format: Hardback
Pages: 2248 pages
Publisher: SAGE Publications India Pvt Ltd
Publication Date: 29/12/2017
Category: Sales & marketing
ISBN: 9789352805952
Free Home Delivery
on all orders
Pick up orders
from local bookshops