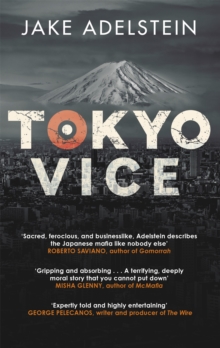 Description
From the only American journalist ever to have been admitted to the insular Tokyo Metropolitan Police press club: a unique, firsthand, revelatory look at Japanese culture from the underbelly up.
At nineteen, Jake Adelstein went to Japan in search of peace and tranquility.
What he got was a life of crime . . . crime reporting, that is, at the prestigious Yomiuri Shinbun.
For twelve years of eighty-hour workweeks, he covered the seedy side of Japan, where extortion, murder, human trafficking, and corruption are as familiar as ramen noodles and sake.
But when his final scoop brought him face to face with Japan's most infamous yakuza boss-and the threat of death for him and his family-Adelstein decided to step down . . . momentarily. Then, he fought back.In Tokyo Vice, Adelstein tells the riveting, often humorous tale of his journey from an inexperienced cub reporter-who made rookie mistakes like getting into a martial-arts battle with a senior editor-to a daring, investigative journalist with a price on his head.
With its vivid, visceral descriptions of crime in Japan and an exploration of the world of modern-day yakuza that even few Japanese ever see, Tokyo Vice is a deeply thought-provoking book: equal parts cultural expose, true crime, and hard-boiled noir.
Information
Format: Paperback
Pages: 400 pages
Publisher: Little, Brown Book Group
Publication Date: 24/06/2010
Category: True crime
ISBN: 9781849014649
Free Home Delivery
on all orders
Pick up orders
from local bookshops
Reviews
Showing 1 - 1 of 1 reviews.
Review by klai
16/06/2015
This book is part memoir of a crime journalist, part account of the Japanese underworld by an investigative journalist, and part expose of recent developments of the yakuza. The book suffers a little from the malaise of journalists-cum-authors (who are much better at short than long), and arguably could have been edited to a tighter whole. But overall the writing is very good and the narrative most certainly makes it a page-turner. ..having said that, stylistics is hardly the point of this work. Adelstein describes his own descent into the underworld (predator becoming like his prey..), and his relationships with people on both sides of the law. He also sheds light on Japanese culture, both mainstream and underground, in ways which recommend this book to all those interested in Japan. Although the book is filled with black humour, the story revealed is not a pleasant one, yet one which should see the light of day more often. Japan may be one of the safest countries in the world, but there is still much evil that ought to be rooted out.