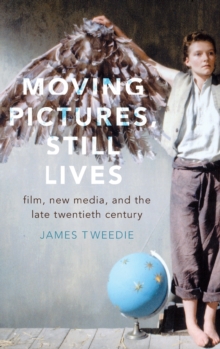 Moving Pictures, Still Lives : Film, New Media, and the Late Twentieth Century
Hardback
Description
Moving Pictures, Still Lives revisits the cinematic and intellectual atmosphere of the late twentieth century.
Against the backdrop of the historical fever of the 1980s and 1990sthe rise of the heritage industry, a global museum-building boom, and a cinematic fascination with costume dramas and literary adaptationsit explores the work of artists and philosophers who complicated the usual association between tradition and the past or modernity and the future.
AuthorJames Tweedie retraces the archaeomodern turn in films and theory that framed the past as a repository of abandoned but potentially transformative experiments.
He examines late twentieth-century filmmakers who were inspired by old media, especially painting, and often viewed those art forms as portalsto the modern past.
In detailed discussions of Alain Cavalier, Terence Davies, Jean-Luc Godard, Peter Greenaway, Derek Jarman, Agnes Varda, and other key directors, the book concentrates on films that fill the screen with a succession of tableaux vivants, still lifes, illuminated manuscripts, and landscapes.
It also considers three key figuresWalter Benjamin, Gilles Deleuze, and Serge Daneywho grappled with the late twentieth centurys characteristic concerns, including history, memory, andbelatedness.
It reframes their theoretical work on film as a mourning play for past revolutions and a means of reviving the possibilities of the modern age (and its paradigmatic medium, cinema) during periods of political and cultural retrenchment.
Looking at cinema and the century in the rear-viewmirror, the book highlights the unrealized potential visible in the history of film, as well as the cinematic phantoms that remain in the digital age.
Information
Format: Hardback
Pages: 304 pages, 26 screen stills
Publisher: Oxford University Press Inc
Publication Date: 15/06/2018
Category: Film theory & criticism
ISBN: 9780190873875