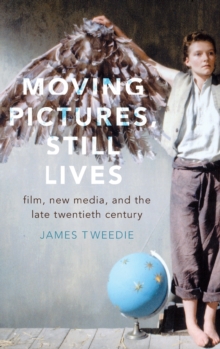 Moving Pictures, Still Lives : Film, New Media, and the Late Twentieth Century
Hardback
Description
For a moment in the late twentieth century, the capacity for cinematic innovation was intertwined with a creative exploration of the past in films like Chariots of Fire and TV serials like Brideshead Revisited, as film artists, critics, and theorists reframed modernity as a historical rather than a contemporary or futuristic phenomenon.
With these seemingly contradictory tendencies activated at once, the past was deployed as both an obstacle tochange and a paradoxical source of renewal.
In Moving Pictures, Still Lives, author James Tweedie retraces the "archaeomodern turn" in media and theory that viewed the past as a repository of abandoned but potentially transformative modern experiments.
By the turn of the millennium, the technical dimension of cultural memory moved to the foreground, with the digital archive joining the more familiar domain of libraries and other institutions charged with preserving the material manifestations of a particular community: itsbooks, art, documents, and other traces of the past.
The promise of a universal archive and infinite digital memory was inseparable from the development of new technologies for digitization, storage, retrieval, and surveillance.
Through this lens, the book considers key figures—Walter Benjamin, Gilles Deleuze,and Serge Daney—who grappled with the late twentieth century's characteristic concerns, including history, memory, and belatedness.
Consequently, the book reframes and rediscovers the virtues and limitations of movies created during the crucial moment between the fading modernity crystallized in cinema and the ascendant new digital media visible in the offing.
Information
Format: Hardback
Pages: 304 pages, 26 screen stills
Publisher: Oxford University Press
Publication Date: 15/07/2018
Category: Film theory & criticism
ISBN: 9780190873875
Free Home Delivery
on all orders
Pick up orders
from local bookshops