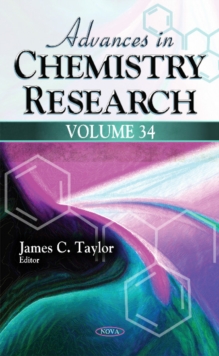 Advances in Chemistry Research : Volume 34
Hardback
Description
The authors' of this latest volume discuss recent advances in chemistry research.
Chapter One studies theoretical optimisation of the catalytic reaction of alcohols with dimethylcarbonate.
Chapter Two provides a review of linalool, a key contributor to the aroma nuances in hoppy beers, cocoa liquors, wines and fermented tea beverages.
Chapter Three provides a discussion of neurological studies on linalool and other fragrant compounds.
Chapter Four focuses on the phytochemistry and biological activities of iridoids.
Chapter Five presents the fragmentation pathways of different anthraquinone-based colorants utilised for structural determination of unknown red colorants obtained from various sources and analysed using HPLC-UV-VIS ESI MS/MS system.
Chapter Six researches the process of synthesis, catalysis and mimetic properties obtained with the use of phthalocyanine, porphyrin and cyclodextrin complexes in the development of electrochemical sensors.
Chapter Seven investigates first order chemical kinetics mechanisms and obtains general conclusions about the qualitative behavior of the concentrations curves.
Chapter Eight discusses the effect of co-anions on perchlorate degradation using zero-valent titanium (ZVT) anode.
Chapter Nine studies the use of poly(ethylene glycol)-supported ruthenium(II) polypyridyl complex as a novel and recyclable visible light photocatalyst for organic synthesis.
Chapter Ten discusses the synthesis of radically deoxygenated sugars.
Information
Format: Hardback
Pages: 240 pages
Publisher: Nova Science Publishers Inc
Publication Date: 01/01/2017
Category: Analytical chemistry
ISBN: 9781536104684
Free Home Delivery
on all orders
Pick up orders
from local bookshops