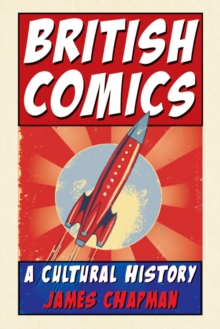 British Comics : A Cultural History
Hardback
Description
British Comics is a unique cultural history of British comic papers and magazines, from their origins in the late nineteenth century to the present day.
It shows how comics were transformed in the early twentieth century from adult amusement to imaginative reading matter for children, and relates the rise of the major comic publishers and the emergence of the mighty duopoly of Amalgamated Press and D.C.Thomson that would dominate the industry for half a century.
Beginning with the first British comic 'superstar', Ally Sloper - 'A Selection, Side-splitting, Sentimental, and Serious, for the Benefit of Old Boys, Young Boys, Odd Boys generally and even Girls' - whose various misadventures reflected the emergence of a middle-class leisure economy in the late nineteenth century, British Comics goes on to describe the heyday of comics in the 1950s and '60s, when titles such as School Friend and Eagle sold a million copies a week, and analyses the major genres including schoolgirl fantasies, sport and war stories for boys. The author charts the development of a new breed of violent comics in the 1970s, including the controversial Action and 2000AD, and also considers the attempt of an American comic publisher, Marvel, to launch a new hero for the British market in the form of Captain Britain.
He goes on to document the appearance in the 1980s and '90s of adult-oriented comics such as Warrior, Crisis, Deadline and Revolver and alternative comics such as Viz, and concludes by considering the work of important contemporary comic writers including Alan Moore, Grant Morrison, Ian Edginton, Warren Ellis and Garth Ennis.
British Comics explains what children and adults thought of their comics and why some titles prospered while others failed, and also maps the changing structure of the comic publishing industry and how comic publishers, writers and artists have responded to the tastes of their consumers.
Ultimately, the book argues that British comics are a distinctive kind of publishing that is different from (and certainly not inferior to) American, French and Japanese comics. An invaluable reference for comics collectors and fans world-wide, British Comics is a fascinating and thorough history that showcases the major role that comics have played in the imaginative lives of British juveniles - and some adults.
Information
Format: Hardback
Pages: 320 pages
Publisher: Reaktion Books
Publication Date: 01/10/2011
Category: Comic book & cartoon art
ISBN: 9781861898555
Free Home Delivery
on all orders
Pick up orders
from local bookshops