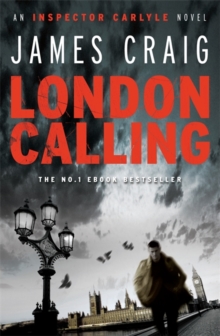 Description
Can you win an election and cover up murder at the same time?When Inspector John Carlyle finds a body in a luxury London hotel room he begins a journey through the murky world of the British ruling classes which leads all the way to the top. In the middle of a General Election, a murderer is stalking the man poised to be the next Prime Minister.
With power almost in his grasp, Edgar Carlton will not stand idly by while his birthright is threatened.Operating in a world where right and wrong don't exist and the pursuit of power is everything, Carlyle has to find the killer before Carlton takes the law into his own hands.
Information
Format: Paperback
Pages: 320 pages
Publisher: Little, Brown Book Group
Publication Date: 01/08/2011
Category: Crime & mystery
ISBN: 9781849015820
Free Home Delivery
on all orders
Pick up orders
from local bookshops
Reviews
Showing 1 - 2 of 2 reviews.
Review by the.ken.petersen
16/06/2015
As a failed novelist myself, I recognise the amount of work, and soul searching which goes in to producing any work of fiction. A first novel is a learning curve and I desperately wanted to find good in this one - but I couldn't.My personal criteria for judging a book are; character, plot and literary style.Let us take each in order. Our detective, Inspector Carlyle, is the standard "'tec at odds with his colleagues". We get pages of back story on Carlyle, which shows that an attempt has been made to create a character. The problem is that, at variance with Rebus, for example, Carlyle's history is forced out in this book, which is clearly designed to be the first of a series. Rankin, more subtly, let Rebus develop as each book was released . Other characters within the work are; fellow policemen - none having Carlyle's commitment to serving the public; they are either time servers, waiting to retire, or career cops looking for patronage rather than to solve crimes. The baddies are just that, a collection of caricature politicians with no redeeming features. So, low marks on the character front.: let us try plot. The story concerns a group of politicians on the verge of forming a new government, when their past catches up with them. I will say no more to spoil the book for any potential reader. Once one has extracted the Carlyle back story (see above) precious little happens; talking to a couple of people with links to the politicos, leads our hero to a solution but, in best detective tradition, the initial solution is in error and the story wraps itself up in an unsatisfactory manner whilst Carlyle flounders. Let us not be unkind, this was never meant to rival Shakespeare, but there really is little novel in this opus so, low marks for plot too. Moving on to literary style and, bearing in mind what I have just said, this is not to be judged alongside the greats of World literature: so, does Mr Craig's style pass muster? Not for me. I know that the 'F' word has become the ubiquitous adjective for many people (everyone within this book) but, it becomes tiring after a time. In real life, many people punctuate each utterance with, 'you know', but writers do not feel the need for this level of realism. I was not petty enough to count, but I would suggest that expletives appears approximately twice per page. Even more damning, however, is the fact that James Craig feels the need to use such language within the main body of the text and, when he describes something as having 'tried soooo hard to be soooo stylish', my patience cracked. I was also confused by his continual product placement. Our hero doesn't just use a mobile, he reaches for the Samsung X125 with superior call control. Perhaps this is not an attempt at a crime story, but Mr Craig's way of collecting freebies from at least half a dozen products given the full treatment (thinks.... perhaps I should have another bash at this writing lark!)In the crowded market of detective fiction, I can find something better to read and will not be waiting upon Inspector Carlyle's next adventure.
Review by Eyejaybee
16/06/2015
A very gritty and cleverly plotted murder story set in and around Westminster in the run up to a general election.The principal character is the disaffected DI Carlyle. While the disgruntled loner at odds with authority is hardly a new model for a fictional copper, it works here, and he is entirely convincing. The settings were very well captured too, and I particularly enjoyed the descriptions of City of London School for Girls and Grodzinski's bakery, both of which I recognised as accurate!It seems as though this is merely the first in a series of novels featuring Detective Inspector Carlyle, and I look forward to it's successors..
Also in the Inspector Carlyle series | View all