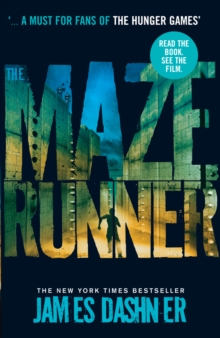 The Maze Runner
Paperback
Description
When the doors of the lift crank open, the only thing Thomas remembers is his first name.
But he's not alone. He's surrounded by boys who welcome him to the Glade - a walled encampment at the centre of a bizarre and terrible stone maze.
Like Thomas, the Gladers don't know why or how they came to be there - or what's happened to the world outside.
All they know is that every morning when the walls slide back, they will risk everything - even the Grievers, half-machine, half-animal horror that patrol its corridors, to try and find out.
Information
Format: Paperback
Pages: 384 pages
Publisher: Chicken House Ltd
Publication Date: 01/08/2011
Category: Science fiction
ISBN: 9781908435132
Other Formats
Paperback from £6.89
Hardback from £10.95
Free Home Delivery
on all orders
Pick up orders
from local bookshops
Reviews
Showing 1 - 5 of 6 reviews.
Previous | Next
Review by dreamybanana
16/06/2015
Great suspense and the plot becomes a lot better than I thought it would be when I started reading as the twists are pretty good. As morbid as it sounds, I always love a book where a few of the characters you get to know die. I chose it because I loved the Hunger Games although I knew I shouldn't have expected it to be as good and sadly it's not. I wouldn't recommend it to anyone I know, but I reckon some people would really love this book. I'd say there were a few too many characters to start with which made it confusing. I also didn't understand any of the motives for why the other boys (that make up the rest of the characters) treated Thomas (the main character) the way they did. I thought as the book went on I would understand why they were so moody and touchy, but no. It kinda felt like it was just done for tension which bugs me a little. Thomas spends a lot of time thinking about the same things over and over which also dragged out the beginning of the book. I wasn't really enjoying it but I kept reading, and I'm glad I did. The twists were good, the pace picked up, there's a good amount of action, and the ending was great. I want to give this 3 and a half stars because I can't bring myself to give it 4. There are better dystopian novels out there, and I don't think I'm going to read the sequel, but still a great book.
Review by AHS-Wolfy
16/06/2015
Thomas is the latest arrival to The Glades, a community of teenage boys slap bang in the middle of a great big maze. With no memory of their former lives the boys are expected to run their homestead, farm, tend to the animals, feed themselves while also trying to solve the riddle of the maze. All newcomers undergo a period of induction to see which of the many jobs they are best suited for but all Thomas wants is to be a Runner. One of those that go out into the maze and search for a way out. Just after Thomas' arrival an unusual event happens, another newbie. Usually they only turn up once a month but what's even more shocking is that this time it's a girl. She's almost dead and holding a note saying she will be the last. What does this mean for the Gladers and how will it shake things up?After a bright opening that asked a lot of questions (many of which are not answered in this volume) this book proved to be a slog to get through the next couple of hundred pages. Not one likeable character appeared especially with the main character having a superiority complex. Thomas is also the only one who wants to question everything with all the others seeming to just accept their situation and carry on with their lot as given to them. It's not until later in the book that things pick up and the story moves to its inevitable conclusion. That was another problem that this book had as for me there were no surprises. Every major plot point was signposted beforehand and it was really only a matter of who survived the ending. It wasn't an awful book, just not a very good one and because I bought the trilogy in a pack I will probably at some point continue with the next in the series with hope that it will get better.
Review by prkcs
16/06/2015
Sixteen-year-old Thomas wakes up with no memory in the middle of a maze and realizes he must work with the community in which he finds himself if he is to escape.
Review by ericasau
16/06/2015
Stop me if you've heard this one before: a bunch of kids are tossed unwillingly into an arena, and the only thing left to do is survive. No, no, this isn't The Hunger Games, but it's close. And I kind of love it. The Maze Runner starts off slow and somewhat confusing, but it's an intentional confusing. We are dropped off in a fabricated world along with Thomas, and we have to figure out why there is a bunch of teenage boys living in the center of a giant maze. None of the current residents a too keen on getting to know Thomas or helping him understand where he has woken up. This environment, however, seems much too familiar to Thomas. As Thomas learns more about his new home, he becomes determined to get his new friends out of the maze and back home -- especially the newest addition to the group, Teresa. The book is spent following Thomas as he tries to solve the maze, learns more about his past, and tries to create a future. I made a mistake before I started reading this book -- I read some of the reviews. I am thrilled to say I did not have the same experience as those with the negative reviews. I thought the storyline was very entertaining with just the right amount of suspense. The end of the book is the best part. I am dying to finish the trilogy, and I can't wait to see how Thomas and his new friends move of from this point. (But I can't say where this point is...spoilers). If I did have one complaint it was the new slang terms that the boys use throughout the book. It's fine if you wanted to make up a few words here and there, but they were used in almost every sentence the boys uttered. If I read the word "klunk" one more time I might lose it, you slinthead shank.
Review by crdf
16/06/2015
The maze runner is more of a Young Adult literature, and when I say Young Adult I mean boys aged 12! It's not a bad book, but I would NOT read the rest of the series. It's quite adventurous, I like the idea, but it's not very intriguing. The ending is not very satisfying as well. It doesn't promise anything different in the later books.
Also in the Maze Runner Series series | View all