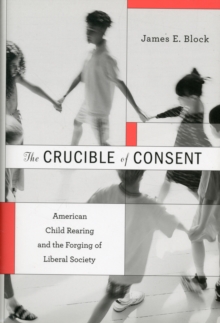 The Crucible of Consent : American Child Rearing and the Forging of Liberal Society
Hardback
Description
A democratic government requires the consent of its citizens.
But how is that consent formed? Why should free people submit to any rule? Pursuing this question to its source for the first time, The Crucible of Consent argues that the explanation is to be found in the nursery and the schoolroom.
Only in the receptive and less visible realms of childhood and youth could the necessary synthesis of self-direction and integrative social conduct-so contradictory in logic yet so functional in practice-be established without provoking reservation or resistance. From the early postrevolutionary republic, two liberal child-rearing institutions-the family and schooling-took on a responsibility crucial to the growing nation: to produce the willing and seemingly self-initiated conformability on which the society's claim of freedom and demand for order depended.
Developing the institutional mechanisms for generating early consent required the constant transformation of child-rearing theory and practice over the course of the nineteenth century.
By exploring the systematic reframing of relations between generations that resulted, this book offers new insight into the consenting citizenry at the foundation of liberal society, the novel domestic and educational structures that made it possible, and the unprecedented role created for the young in the modern world.
Information
Format:Hardback
Pages:464 pages
Publisher:Harvard University Press
Publication Date:16/03/2012
Category:
ISBN:9780674051942