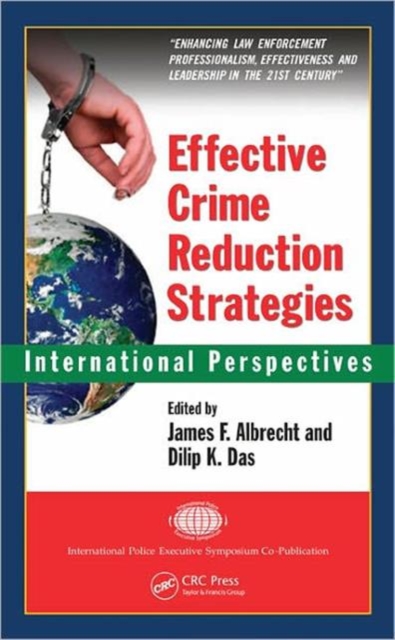 Effective Crime Reduction Strategies : International Perspectives
Description
The International Police Executive Symposium (IPES, www.ipes.info) coordinates annual international conferences to evaluate critical issues in policing and recommend practical solutions to law enforcement executives deployed across the globe.
Drawn from the 2005 proceedings hosted by the Czech Republic in Prague, Effective Crime Reduction Strategies: International Perspectives contains contributions from the renowned criminal justice and law enforcement professionals who gathered at this elite annual meeting.
Dedicated to continued reduction in crime through local and global response, these international experts share effective crime-fighting principles and tried and proven best practices. Thoroughly revised and updated since the initial proceedings, the reports in this volume are divided into six sections which explore a host of essential topics: Critical Issues in European Law Enforcement: Highlights efforts in Hungary, Austria, and Norway to revise policies and organizational structures to meet the demands of developing events and political pressures Contemporary Concerns: Policing in the United States and Canada: Analyzes the impact of international terrorism and transnational crime on police work Paradigm Shifts: Policing as Democracy Evolves: Evaluates the success of democratic reforms in South Africa, Brazil, Argentina, Nigeria, and Cameroon Revising Traditional Law Enforcement in Asia to Meet Contemporary Demands: Describes how counterterrorism, cultural ideology, and transnational criminal influence affects the traditional nature of policing in New Zealand, Turkey, Indonesia, and Thailand The Positive Influence of Unionization on Police Professionalism: Addresses the impact of police associations on management decision-making and policy development in the United States, Canada, New Zealand, and South Africa Significant Issues Facing Twenty-First Century Law Enforcement: Focuses on counterterrorism, border and transnational criminality, the measurement of police effectiveness, and the investigation of juvenile crimeSupplemented with select papers considered for the official journal of the IPES, this volume represents a thoroughly comparative approach to the challenges police executives face in the 21st century.
Exploring a wide range of issues impacting how law enforcement professionals fight crime, experts from virtually all regions of the globe engage in discourse that is destined to shape future policing worldwide.
Information
Format:
Pages:650 pages, 58 Tables, black and white; 13 Illustrations, black and white
Publisher:Taylor & Francis Inc
Publication Date:22/02/2011
Category:
ISBN:9781420078381
Information
Format:
Pages:650 pages, 58 Tables, black and white; 13 Illustrations, black and white
Publisher:Taylor & Francis Inc
Publication Date:22/02/2011
Category:
ISBN:9781420078381
Also in the International Police Executive Symposium Co-Publications series | View all