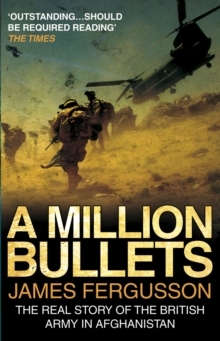 A Million Bullets : The Real Story of the British Army in Afghanistan
Paperback
Description
In April 2006 a small British peace-keeping force was sent to Helmand province in southern Afghanistan.
Within weeks they were cut off and besieged by some of the world's toughest fighters: the infamous Taliban, who were determined to send the foreigners home again.
Defence Secretary John Reid had hoped that Operation Herrick 4 could be accomplished without a shot being fired; instead, the Army was drawn into the fiercest fighting it had seen for fifty years.
Millions of bullets and thousands of lives have been expended since then in an under-publicized but bitter conflict whose end is still not in sight.Some people consider it the fourth Anglo-Afghan War since Victorian times.
How on earth did this happen? And what is it like for the troops on the front line of the 'War on Terror'?
James Fergusson takes us to the dark heart of the battle zone.
Here, in their own words and for the first time, are the young veterans of Herrick 4.
Here, unmasked, are the civilian and military officials responsible for planning and executing the operation.
Here, too, are the Taliban themselves, to whom Fergusson gained unique and extraordinary access. Controversial, fascinating and occasionally downright terrifying, "A Million Bullets" analyses the sorry slide into war in Helmand and asks this most troubling question: could Britain perhaps have avoided the violence altogether?
Information
Format: Paperback
Pages: 480 pages
Publisher: Transworld Publishers Ltd
Publication Date: 24/04/2009
Category: British & Irish history
ISBN: 9780552156080
Free Home Delivery
on all orders
Pick up orders
from local bookshops
Reviews
Showing 1 - 1 of 1 reviews.
Review by vguy
27/08/2015
A book to put anyone off soldiering. You may not get killed ( the face to face technological advantage is with the Westerners) but you will be isolated, undersupplied, ignored, messed about by your allies and distant HQ. What's more your efforts will be totally pointless and leave things much as they were or slightly worse. Makes strong case that the Western approach prioritised violence (especially the Paras & the US), thereby creating resentment and wrecking any chance of peacemaking or development. Much of the book is rather hard to follow unless you are familiar with the units and organisation of the Services. The last chapters contain the payoff when he goes to meet the Taliban. Narrative at this point is strong and the encounter revealing. They are of course human and making calculations of advantage (rational in Tim Harford's sense), though being totally resolved and resigned to die in battle they do have a different perspective! One says how his father and grandfather died by the bullet so it's what he expects too. The historical aspect is revealing: the afghan fighters remember the previous faranghee invasions, Soviet wreckage is everywhere to be seen; he even spots a youth out duck hunting with a muzzle loader stamped with VR "1842". Dumb idea to assign the Brits to Helmand, as it's where they fought (and took a beating) in previous centuries. And the map used for strategic decisions is a Western fiction, ignoring lines of tribal loyalty, pilgrimage, trade and influence.