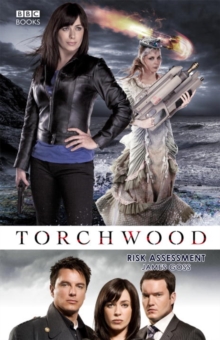 Torchwood: Risk Assessment
Hardback
Part of the Torchwood series
Description
Are you trying to tell me, Captain Harkness, that the entire staff of Torchwood Cardiff now consists of yourself, a woman in trousers and a tea boy?' Agnes Havisham is awake, and Jack is worried (and not a little afraid).
The Torchwood Assessor is roused from her deep sleep in only the worst of times - it's happened just four times in the last 100 years.
Can the situation really be so bad? Someone, somewhere, is fighting a war, and they're losing badly.
The coffins of the dead are coming through the Rift.
With thousands of alien bodies floating in the Bristol Channel, it's down to Torchwood to round them all up before a lethal plague breaks out. And now they'll have to do it by the book. The 1901 edition. Featuring Captain Jack Harkness as played by John Barrowman, with Gwen Cooper and Ianto Jones as played by Eve Myles and Gareth David-Lloyd, in the hit sci-fi series created by Russell T Davies for BBC Television.
Information
Format: Hardback
Pages: 256 pages
Publisher: Ebury Publishing
Publication Date: 01/10/2009
Category: Science fiction
ISBN: 9781846077838
Other Formats
Paperback from £6.65
EPUB from £4.99
Free Home Delivery
on all orders
Pick up orders
from local bookshops
Reviews
Showing 1 - 1 of 1 reviews.
Review by JonArnold
16/06/2015
The majority of authors who approach TV tie in work seem almost to be afraid of writing outright comedies, afraid perhaps of not getting invited back if they're taking the piss out of much beloved characters. James Goss has no such qualms, his second book taking Torchwood no more seriously than his first did. And as with that first book it's immediately enough to mark it out as amongst the better novels in the range. It centres around the resurrection of the Torchwood assessor, an event that happens only in time of severest crisis. Which sounds like a clumsy device by the author to try to make the events of the book more weighty, but ends up being quite the opposite.Of the original elements, main guest character Agnes Havisham is a memorably sarcastic addition to the Torchwood universe, providing a fresh, withering perspective on the established cast. She's certainly devious and funny enough to warrant a return appearance. And the Vam is an ingenious threat which'd be fearsome if it wasn't played mainly for laughs. And ther are several unexpected story twists which end up answering the questions you should've been asking all the way through. What may at first appear to be funny but clumsy ends up funny and ingenious. The sort of book that ends up giving tie-ins a good name.