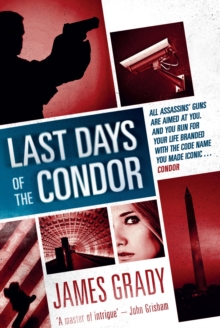 Last Days of the Condor
Paperback
Information
Format: Paperback
Pages: 320 pages
Publisher: Oldcastle Books Ltd
Publication Date: 27/08/2015
Category: Crime & mystery
ISBN: 9781843445869
Free Home Delivery
on all orders
Pick up orders
from local bookshops
Reviews
Showing 1 - 1 of 1 reviews.
Review by atticusfinch1048
10/11/2015
Last Days of the Condor – Not So ThrillingLast Days of the Condor from James Grady is the final part of a series of books on the CIA operative known to all as Condor. To me this seemed like it was a book to far, as it seemed to have lost its swagger from the earlier books, which were excellent, this feels like it was forced to be written by a hungry publisher wanting more. James Grady prose is usually so easy flowing and enjoyable to read but in the Last Days of the Condor seems to be laboured, with a stuttering plot and random sentences that seem to make no sense. It seems like Grady was bored while writing this final outing for the Condor, which is a shame as he is such an excellent writer where intrigue and thriller rushes are concerned.Vin aka Condor is a broken man who now works at the Library of Congress, when he is leaving work one day he is aware that he is being tailed to where he lives but takes no evasive action. When he gets to his rented house he goes through his security precautions out of habit. Condor can no longer remember most of the work that he has done for the CIA and has recently been released from a dark site institution from where he was recovering from some sort of breakdown. Homeland Security keeps a check on him and make sure that he is safe and secure at home. One of those Agents, Peter does not like Condor and has no sympathy with him and has to take a random drug test which his fellow Agent Faye challenges him on.When Peter turns up dead at Condor's house so begins Condor's fight for survival especially when your former employers designate you as an enemy of that Agency, you are aware that they will send assassins to eradicate you as a problem. This is his race for survival, but like an onion Grady unravels the many layers of the American 'Intelligence' community.This is not one of James Grady's best book, seems rather disjointed as if written under sufferance but if you liked the Condor's previous then you need to read this book.